Frontier Airlines reports a loss of $13 million in the first quarter of 2023, compared with an $121 million loss during the same period last year.
The Denver-based ultra-low-cost carrier (ULCC) posted a company-record $848 million in revenue during the first quarter, up from $605 million in 2022, Frontier said during its 3 May earnings call.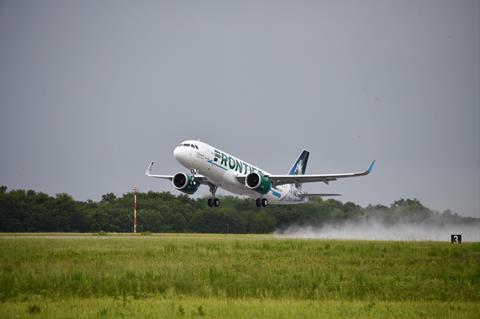 "The results are reflective of the seasonality of the business, with the seasonally weak first half of the quarter substantially offset by a strong spring break period," says James Dempsey, Frontier's chief financial officer.
The airline's expenses were $873 million, a 15% increase over last year's first-quarter costs of $758 million.
Frontier's load factor for the three months ending 31 March was 82.8%, compared with 74.2% last year.
'CLEAR CHANGE'
Frontier is tweaking its network strategy to focus more on peak periods for leisure travel and "reducing under-performing flying" during low-demand periods.
"We conducted a full review of profitability over the past several quarters and observed a clear change in consumer demand patterns," says Daniel Shurz, Frontier's senior vice-president of commercial. "While overall leisure travel is increasing, the breadth is disproportionately landing on peak days and in peak travel periods."
The strategy of flying more on days people want to travel – and less on days they do not – is a key principle for US competitors Allegiant Air and Sun Country Airlines, which have traditionally operated more variable schedules than Frontier and Spirit Airlines.
Frontier plans to roll out an adjusted peak-trough strategy in time for the busy summer air travel season in the northern hemisphere.
"Having analysed this new customer behaviour – and until the peak and off-peak demand relationship normalises – we are reshaping our capacity beginning in the second quarter to exploit this dynamic, and expect the changes to be fully deployed in the second half of 2023," says Barry Biffle, Frontier's chief executive.
Frontier took delivery of six Airbus A321neos during the first quarter amid an ongoing fleet renewal plan, ending the quarter with 125 single-aisle aircraft.
The carrier has orders for an additional 225 Airbus aircraft – including purchase agreements for 67 A320neos and 151 A321neos, plus seven A321neos through direct leases – due to be delivered through 2029.
Frontier says it was recently notified by Airbus that its remaining aircraft deliveries for 2023 have been delayed by one month, pushing two A321neos that had been previously expected this year into 2024.
"Based on the revised schedule from Airbus, we expect to take delivery of four A321neos in the second quarter, three of which are direct leases," says Dempsey. The company expects seven more of the type in the third quarter, and another four A321neos during the final three months of 2023.
Frontier expects to further rebound from the Covid-19 pandemic throughout the remainder of 2023, with the delivery of larger A321neos boosting the passenger capacity of its fleet.
"2023 capacity is expected to reflect growth of between 19% to 22% over the prior year to align with utilisation changes…. and the impact of Airbus deliveries," Dempsey says.