Garuda Indonesia has announced a phased capacity ramp-up to key cities in its domestic and international network, as it looks to reactivate some Boeing 737-800s as part of recovery efforts.
The Jakarta-based carrier, which recently obtained creditor and court approval for a multi-billion dollar restructuring plan, will from August increase the number of flights to six domestic points from Jakarta: Batam, Balikpapan, Denpasar, Medan, Makassar, as well as Surabaya. It will also increase frequencies to Singapore.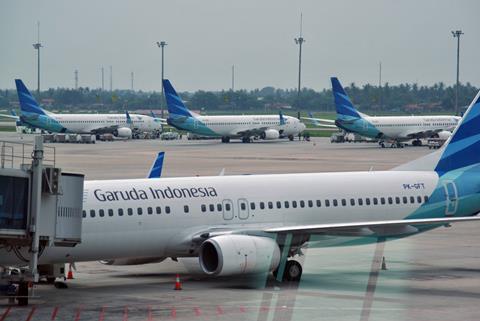 In total, Garuda says it aims to operate at least 850 flights a week from August, a 32% increase from current frequencies.
The state-owned carrier will also reactivate three 737s "to support the increase in flight frequencies", noting that its fleet of "serviceable aircraft…is gradually increasing", as it undergoes a series of negotiations with lessors.
The airline's move to ramp up domestic capacity is in line with earlier comments made by Indonesian officials that the airline's focus in the near-term is on the domestic market with "very few international routes".
Garuda in its latest statement confirms that it will be "gradually increasing" frequencies on routes with "positive performance".
Airline chief Irfan Setiaputra says: "We are increasing our frequency gradually through evaluation, especially on routes that contribute positively to the company's performance. [We] also periodically align it with the availability of the fleet, which we continue to optimise, especially in line with the negotiation process with the lessors."
Setiaputra reiterates the company's commitment to return to profitability, noting that it will pursue "alternative revenue opportunities", including in cargo, ancillaries, as well as collaborations with its partners.
The carrier was nearly $4 billion in the red for the year to 31 December 2021. This compares to the record operating loss of $2.2 billion for 2020, as the coronavirus pandemic impacted passenger travel sentiment.