European airline group IAG expects to post an operating profit of €1.1 billion ($1.1 billion) before exceptionals for the full-year after confirming a strong third quarter in which all of its carriers were back in the black.
IAG made an operating profit of €1.2 billion before exceptionals for the three months ended 30 September 2022, a performance it had flagged in a trading update on 13 October. That compares with an operating loss of €452 million in the third quarter of 2021. The group recorded a net profit of €853 million for the period, turning around a loss of €574 million for the third quarter of 2019.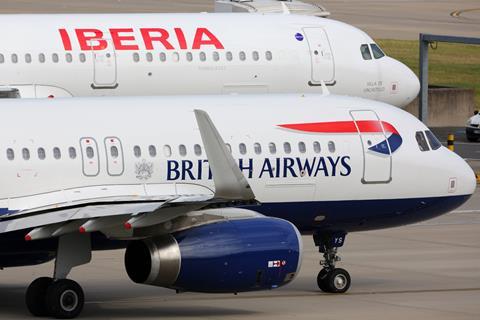 That was achieved on a near trebling of revenues for the third quarter of €7.3 billion, on a par is with the same period before the pandemic in 2019. That was driven by a sharp improvement in group passenger revenues to €6.4 billion, on capacity back up to around 81% of 2019 levels.
IAG chief executive Luis Gallego says: "All our airlines were significantly profitable and we are continuing to see strong passenger demand, while capacity and load factors recover. Leisure demand is particularly healthy and leisure revenue has recovered to pre-pandemic levels. Business travel continues to recover steadily."
British Airways was the most profitable of IAG carriers during the quarter, with an operating profit of €411 million, It was followed by Spanish low-cost unit Vueling with €259 million, Ibera which posted a €246 million profit and Irish flag carrier which made €139 million. Only Iberia had been profitable for the same quarter last year, with Vueling breaking even and Aer Lingus and BA both loss-making.
IAG 2021 Q3 profit and revenue vs 2019 by airline
Airline
Revenue
Change v 2019
Op profit 2022
Change v 2019
Source: IAG Q3 results
Aer Lingus
€661m
-4%
€139m
-€30m
British Airways
€3,557m
-7%
€411m
-€223m
Iberia
€1,635m
3%
€246m
-€27m
Vueling
€1,016m
15%
€259m
€29m
IAG plans expects to lift group capacity to around 87% of 2019 levels in the fourth quarter and to be at about 95% of pre-pandemic levels in the first quarter of 2023 as it continues to build back.
"While demand remains strong, we are conscious of the uncertainties in the economic outlook and the ongoing pressures on households," says Gallego.. "Against this backdrop, we are focused on adapting our operations to meet demand, strengthening our balance sheet by re-building our profitability and cashflows and capitalising on our high level of liquidity."