UK leisure carrier Jet2's parent company, Dart Group, has reported a 10% decline in full-year pre-tax profit but is "confident" demand will return and "encouraged" by bookings for next summer.
Pre-tax profit for the year ended 31 March, after a £108 million ($136 million) charge related to hedge ineffectiveness, fell to £153 million. Revenue for the period rose 21% to £3.58 billion, while operating expenses increased by 19% to £3.29 billion.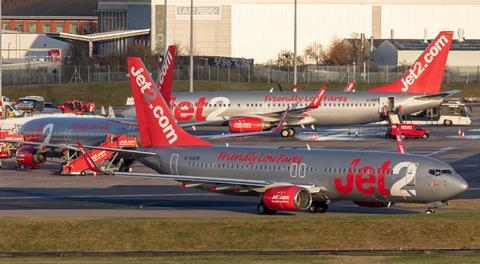 The company says that passenger numbers grew 14% to 14.6 million, and its package holiday business accounted for just over half of flyers.
"We still face challenges as a result of the Covid-19 pandemic and, therefore, maintaining a healthy cash position remains our top priority," says Dart. "We have taken significant actions to improve our available liquidity in the last three months and will continue to do so, to ensure that we are best placed to respond swiftly as UK government travel restrictions are relaxed and customer confidence recovers."
The company adds that it is "confident" demand will come back "once normality returns". It describes current load factors for the coming winter as "satisfactory" and says bookings for summer 2021 are "encouraging".
"Whilst flight-only remains very important, our higher margin package holiday business has tremendous further potential," says Dart.
Jet2 had originally intended to start flying again on 17 June but later amended this first to 1 July and then to 15 July. It had already cancelled summer leases on 12 aircraft and furloughed roughly 80% of its employees under the UK's job-retention scheme.
In late June, Jet2 said it needed to cut more than 100 pilot jobs as a result of ongoing uncertainty related to Covid-19.
An earlier version erroneously stated that the pre-tax profit figure excluded the hedging-related charge. This has been corrected