A deal that would have seen HDC Hyundai Development (HDC) obtain control of Asiana Airlines has fallen through.
Kumho Industrial, which owns a controlling stake in the carrier, informed the airline's main creditor, Korea Development Bank (KDB), of the deal's collapse, according to a report by the official Yonhap news agency, citing KDB.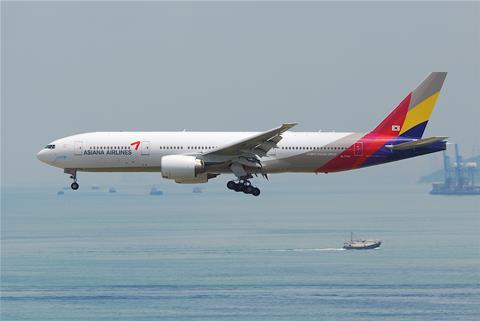 In late 2019, Kumho Industrial selected a consortium comprised of HDC and Mirae Asset Daewoo as the preferred bidders. Kumho Industrial is a unit of South Korea's Kumho Asiana Group.
Although the W2.5 trillion ($2.2 billion) deal closed in December 2019, in June 2020 media reports emerged that HDC wanted to re-negotiate the acquisition.
According to a Reuters report on 9 June, HDC was concerned about an increase in Asiana's debt burden, with HDC appealing to the airline's state-funded creditors to offer it support.
Later that month, HDC requested an additional round of due diligence into the deal.
This is the second high-profile acquisition to go awry in South Korea's airline sector this year. In July, Jeju Air scrapped plans to acquire a majority stake in South Korea's Eastar Jet.
Though South Korean carriers have been hard hit by the collapse in air travel stemming from the coronavirus pandemic, the country's two full service carriers have done relatively well owing to their large cargo operations.
Asiana swung to a second quarter operating profit of W115 billion in the three months to 30 June as it relied on strength in the cargo market.
Korean Air, for its part, generated a W149 billion operating profit in the three months ended 30 June, also benefiting from cargo.