Air travel may not return to pre-coronavirus levels until at least 2023, so US carriers are making plans to downsize their employee base, echoing the warnings of transportation analysts that the industry is "staff heavy" for a market reeling from the ongoing coronavirus pandemic.
US airlines employed 604,551 full-time and 110,466 part-time workers in the middle of April, which was 37,000 fewer than in March, according to the US Department of Transportation. The coronavirus travel downturn caught airlines in the middle of a hiring boom, as the industry workforce grew from 736,000 people in April 2019 to 752,000 in March 2020.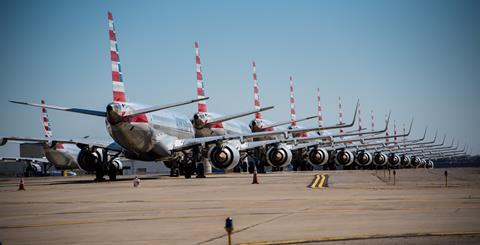 Finding enough pilots to meet the steady growth of air travel was among the biggest challenges for some carriers in 2019, but now "airlines are staff heavy for this current market", Hunter Keay, aerospace analyst at Wolfe Research, said during an online discussion on 16 June.
"Airlines have over hired during the past few years," Keay says, adding that carriers are at their best during a crisis and "really pivot when times are tough".
As of June, revenue for US airlines is down 91% year-over-year and passenger travel is down 80% compared with 2019, Airlines for America chief economist John Heimlich says during the online discussion. Even as air travel recovers from the low point of the coronavirus downturn in April, 44% of US carrier's fleets remain grounded as of June, Heimlich said during the event hosted by the International Aviation Club of Washington, DC.
"Airlines were very proud of their hiring in the 10 years leading up to the pandemic," Heimlich says, noting that industry employment growth for a time outpaced the average US business.
After suffering months of nearly no revenue, however, Heimlich says "most [airlines] have been very pubic about the fact that they will be too large" for the near future due to the pandemic's impact on the market.
Airlines seeking voluntary furloughs during the health crisis "have made clear they will be eager to recall folks when the revenue bounces back", he says.
While aircraft are still flying to keep the USA connected, the average US load factor required to break even has risen to 79%, up from 76% a year ago, Heimlich says. That load factor is expected to rise above 79% in the months to come, and the trade association expects US airline employment will not return to 2019 levels until 2023.
SEEKING VOLUNTARY LAYOFFS
Airlines are encouraging workers to take voluntary furloughs or other steps to cut costs, seeking to avoid forced layoffs as they burn through millions of dollars every day.
Southwest Airlines tells Cirium it has no plans for forced layoffs but "it is fair to assume that we are overstaffed in many areas" as it plans to reduce capacity at the end of its 2020 seasonal routes. Options for its 60,000 employees include "extended emergency time off", which provides health benefits, travel privileges and reduced compensation if workers take at least six months off. Another voluntary separation programme gives workers an exit package to resign their jobs.
At American Airlines, 40,000 employees have accepted early retirement, a reduced work schedule or a partially paid leave, the carrier tells Cirium. If not enough people volunteer for one of those options, then in July the carrier says it will begin "to take the difficult step of involuntary separations". As a recipient of federal coronavirus relief funds, American would have to wait until after 30 September to layoff employees.
"We're also in the process of reducing our management and support staff team by approximately 30%," American says.
Alaska Air Group, the parent of Alaska Airlines and Horizon Air, employs around 22,000 workers, 6,000 of whom have accepted voluntary short-term and incentive leave. Alaska Air Group president Ben Minicucci has said the company may reduce its workforce by 3,000 people in 2021.
Many smaller carriers are in an easier position than the majors to make job cuts because they outsource much of their work to contractors, but cost-cutting remains a concern as the pandemic drags on. Allegiant Air tells Cirium it is optimistic about the slow recovery of air travel as states begin to reopen but "we don't yet know the long-term effects of the pandemic and what the arc of demand will look like".
The parent company of the leisure carrier has halted spending on non-airline projects, including construction of its Sunseeker Resort in Florida, but has "not made definitive plans regarding fleet and network, which would drive workforce needs and decisions".
Staffing reductions follow the grounding of aircraft that accelerated in March after the World Health Organization declared coronavirus a global pandemic. The global in-service fleet declined from around 29,000 passenger aircraft in January to about 13,200 in mid-April, Cirium fleets data shows. Airlines now have about 18,000 aircraft in service amid the slow recovery for air travel.
PAYROLL SUPPORT DEADLINE
The federal CARES Act enacted in March bought US carriers time to consider their options on staffing, making available $25 billion to passenger airlines and $4 billion to cargo carriers for the exclusive use of employee wages, salaries, and benefits. Forcing layoffs or reducing hours are banned through 30 September as a condition of this aid programme.
Unions for airline workers have pushed for an extension of the payroll support, including the Air Line Pilots Association, International (ALPA) and the Association of Flight Attendants-CWA (AFA). To give airlines more time to negotiate voluntary furloughs or find a stable financial footing, the AFA wants the CARES Act payroll support extended through 2020.
Since US airlines began grounding aircraft in March, around 40,000 flight attendants have accepted voluntary leave offered by their carriers, amounting to 35% of US flight attendants, says Susannah Carr, a United Airlines flight attendant and AFA representative.
"When CARES was written it was expected the industry would be closer to full recovery by the fall," Carr says in a statement. "It is clear now that will not happen."