Low-cost carrier Norwegian aims to complete its court-approved financial restructuring later this month after a deadline passed with no objections filed against the plan.
The Scandinavian carrier, which last year entered formal restructuring processes in Ireland and Norway, respectively in November and December, filed financial plans to exit these proceedings in March. These were approved by courts in Ireland on 26 March and in Norway on 12 April.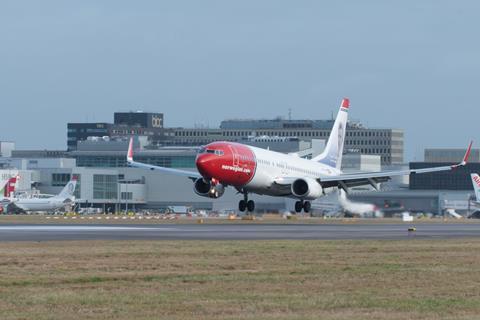 Today the carrier says that no appeals had been filed prior to a deadline. "Consequently the reconstruction plan is final and binding," it says. "The company is consequently determined to complete the reconstruction process on 26 May 2021."
Earlier this month the airline launched a capital raise of up to NKr6 billion ($725 million) as part of its broad restructuring plan. The subscription period runs until 21 May.
Norwegian has reduced debt and cancelled large numbers of aircraft orders during the restructuring, and is looking to emerge with a fleet of 51 aircraft – pointing out that it has signed agreements for 44 leased and four owned aircraft, and intends to retain three more.