Scandinavian budget carrier Norwegian is looking to raise up to NKr6 billion ($725 million) as part of its broad restructuring plan, following court approvals of arrangements to exit examinership processes.
Norwegian has reduced debt and cancelled large numbers of aircraft orders during the restructuring, and is looking to emerge with a fleet of 51 aircraft – pointing out that it has signed agreements for 44 leased and four owned aircraft, and intends to retain three more.
It says its total liabilities upon completion of the proposed restructuring will be around NKr16-18 billion including NKr5.8-6.3 billion in aircraft-related debt. The company's cash balance will be some NKr7 billion.
"These estimates are based on the assumption that the maximum proceeds are raised in the capital raise," it adds.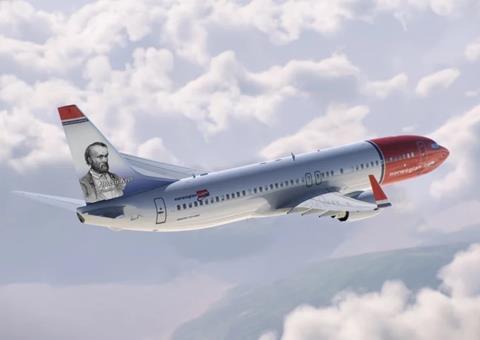 Norwegian is proposing to offer bonds to bring in NKr1.875 billion, conduct a rights issue for another NKr395 million, and carry out a private placement of new shares such that the total proceeds will not exceed NKr6 billion.
The rights issue will comprise an offering of just over 63 million new shares, at most, with a subscription price of NKr6.26 each.
Existing shareholders will be granted three subscription rights for every two shares already held. The subscription period is expected to run from 7-21 May, says the carrier.
Norwegian states that the private placement will encompass up to 958.4 million new shares at the same subscription price. The placement will comprise an institutional offering and an offering directed towards eligible private-placement creditors, as determined by the restructuring proposal.
Investors in the capital raise will own some 75.7% of the company, if the NKr6 billion scheme is fully subscribed, while unsecured creditors will own 20.6% and existing shareholders will have the remaining 3.7%.