Singapore Airlines (SIA) partially attributes recent strong financial results to its injection of capacity prior to the emergence of pent-up demand in 2022 as the region's travel restrictions eased.
The carrier pegs its passenger capacity at just under 75% of pre-pandemic levels, whereas regional peers have just over 40% of pre-pandemic capacity back in operation.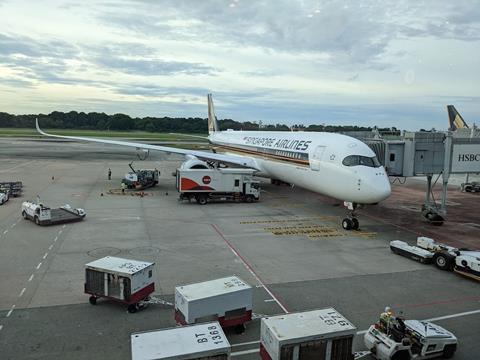 During an analysts briefing, SIA chief executive Goh Choon Phong observed that SIA's staffing levels are nearly 100% of pre-pandemic levels, while about 90% of its fleet is back in service. At its pandemic low point in mid-2020, only 40% of the carrier's fleet was in service.
The availability of capacity allowed the airline to take full advantage of the region's travel rebound in 2022. And although SIA's passenger capacity is at 75% of January 2020 levels, strong demand for tickets in the six months ended 30 September lifted SIA Group to its highest ever first half operating profit. During the first half it swung to an operating profit of S$1.2 billion ($1.7 billion), while revenue tripled to S$8.4 billion.
The second quarter to 30 September also saw a record load factor of 86.6%, which surpassed 85.7% achieved in the second quarter of its 2019/20 financial year. RASK for the quarter also surpassed previous records, which were set over 12 years ago in the late 2000s.
As of 30 September, SIA and low-cost unit Scoot had 195 in-service aircraft, up from 193 on 31 March.
During the quarter SIA received a single Boeing 787-10 and three 737 Max 8s, while Scoot retired a pair of Airbus A320s.
Goh, however, also warns of several challenges in the future. Other airlines are adding flights, which will inevitably start to depress yields, and fuel costs remain high. Other dangers include the emergence of new Covid-19 variants, a gloomy economic outlook and possible recession, as well as the war in Ukraine and growing tensions between China and the USA.