Singapore Airlines (SIA) Group has cancelled orders for eight Boeing 737 Max 8 aircraft, as part of a wider Boeing order adjustment for "projected operational requirements".
In fleet development plans disclosed with its annual results, the airline group – comprising mainline operator SIA and low-cost carrier Scoot – says it reached an agreement with the North American airframer to tweak its order book.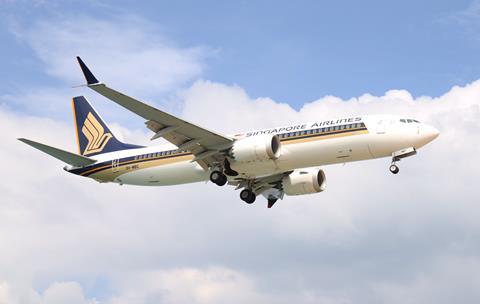 It did not explain the reason for the cancelling some of its 737 Max orders, but says the adjustments, which also include swapping three 787-9s for the larger -10s, "are in line with the group's long-term fleet renewal strategy".
The 737 Max order book was inherited from now-shuttered regional wing SilkAir, which has since merged with the mainline operator. Meanwhile, the 787-9s were part of Scoot's order backlog, while the -10s are operated by SIA.
Following the order adjustment, SIA now has 13 737 Max 8s, as well as 15 787-10s on order. Scoot will now have a single 787-9 on order. In total, the group will have 100 aircraft on order from Airbus, Boeing and Embraer.
As at 31 March, the group has 195 fleet in its fleet, 188 of which are passenger aircraft. SIA has an operating fleet of 133 passenger jets and seven freighters, while Scoot has 55 aircraft in operation.
The fleet updates come as the airline group swung to a record S$2.7 billion ($2 billion) operating profit for the year to 31 March – its first profit since the pandemic began three years ago.