SkyWest Airlines hopes to launch its SkyWest Charter subsidiary "shortly", a move the airline says will enable it to serve secondary cities with on-demand charters.
Some of those cities do not have, or are at risk of losing, air service.
"We have been more than surprised about the outside interest of our charter operation," SkyWest chief executive Chip Childs said on the company's quarterly earnings call on 28 July. "There are a lot of parties that want this thing to work."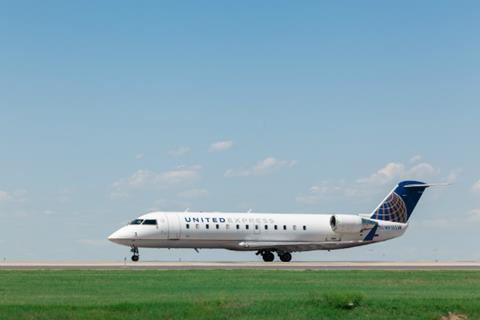 SkyWest applied to the US Department of Transportation (DOT) for commuter authority on 21 June. In its application, it requested to operate 30-seat Bombardier CRJ200s to 25 destinations under a charter subsidiary called SkyWest Charters.
The proposal would also allow SkyWest to hire pilots with less aeronautical experience than required for commercial scheduled operations, taking pressure off the pilot shortage plaguing many US carriers but hitting regional airlines hardest.
The commuter flights would operate under Federal Aviation Regulations Part 135 rules, which govern charter operations, as opposed to Part 121 rules, which govern scheduled commercial aviation operations.
SkyWest chief commercial officer Wade Steele says the DOT and airline are "working through the application".
"Hopefully in the next couple of months we will get this all sorted out," he adds.
In its June application, SkyWest said it aimed to have the subsidiary running by October, with a five-month ramp-up during which three to four aircraft and four to five markets would be added monthly through April 2023. Eventually, SkyWest expects the charter business will serve 25 markets with 18 aircraft.
Though the exact timing of the charter operation's launch remains unclear, Steele says it will begin flights "sometime this year…hopefully shortly".
"I don't think it will drag out too long," Steele adds.
Earlier this year, SkyWest also gave notice it was departing 29 cities served under Essential Air Service (EAS) contracts with the US government, citing lack of qualified flight crew. It has already cancelled hundreds of flights since the beginning of the year. The new charter unit is a play to salvage routes to some of those markets.