US regional carrier SkyWest Airlines lost $22 million during the first quarter of 2023, compared with an $18 million profit last year.
The Utah-based company said during its 27 April earnings call that it generated $692 million in revenue during the first quarter, down from $735 million during the same period of 2022.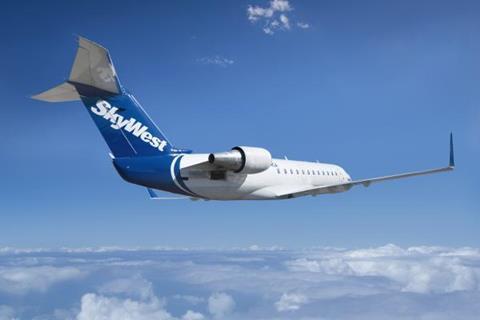 The airline's costs were $697 million, up from $683 million last year.
The carrier flew about 276,000 block hours in the first quarter, 11% fewer than the 311,000 it flew during the same three months of 2022. Departures were also down nearly 9% year-on-year.
However, the carrier may have turned a corner on losing pilots to major US carriers – many of which it contracts with.
"We are making good headway on our captain imbalance," says chief executive Chip Childs. "Captain attrition has begun showing signs of stabilisation and was lower than planned for the quarter. As a result, our previous outlook on block hours for 2023 is slightly improved compared to our comments last quarter."
SkyWest contracts with major US carriers such as Alaska Airlines, American Airlines, Delta Air Lines and United Airlines.
The carrier recently launched a new charter operation, completing its first revenue flight earlier this month.
'OPTIMISING' FLEET
The regional airline recently purchased 32 Bombardier CRJ series aircraft "under an early lease buyout agreement for $125 million, the estimated fair value of the acquired aircraft and engines", says chief financial officer Robert Simmons.
Those aircraft are already deployed within SkyWest's fleet, though not all are in the air, says chief commercial officer Wade Steel.
"Some of the airframes may be on the ground as we're optimising for our pilot situation right now," he acknowledges.
The company is also engaged in selling some of its "excess CRJ assets", having already sold an undisclosed number of aircraft for $9 million, with letters of intent for further aircraft sales worth $15 million. Those deals are expected to close in the second and third quarters, SkyWest says.
As with all regional carriers in the USA, SkyWest has suffered from high rates of pilot attrition as major US airlines have poached their captains and first officers to meet soaring demand. But the situation's severity has eased of late, SkyWest executives say.
"We have seen a positive trend in our captain attrition," Steel says. "With the captain attrition lower than planned, we anticipate that our 2023 block hours will be down 14% as compared to 2022, which is an improvement from the 19% [decrease] we communicated last quarter."
SkyWest operates a fleet of 513 regional jets, including 215 Embraer 175s, 44 CRJ900s, 114 CRJ700s and 140 CRJ200s.
It currently has 118 CRJ series aircraft in storage, according to Cirium fleets data.
SkyWest is not alone in lacking enough pilots to fully utilise their fleets. Some 500 jets are parked for 11 regional carriers operating within the USA – Skywest, Air Wisconsin, Endeavor Air, Envoy Air, PSA Airlines, Piedmont Airlines, Mesa Airlines, Horizon Air, GoJet Airlines, Republic Airways and CommuteAir.