Spirit Airlines pilots won a 27% pay raise on 9 December in a tentative new deal reached between union Air Line Pilots Association, International (ALPA) and the airline.
If ratified by the airline's union members, the contract is effective on 1 January and represents a $463 million gain over a two-year period for Spirit pilots, ALPA says.
"This agreement… stands in stark contrast to previous bargaining cycles at Spirit and other large jet carriers, where pilots have endured years of stagnating compensation while negotiating comprehensive pilot contracts," says Ryan Muller, chair of Spirit's master executive council.
Spirit's union leaders voted unanimously on 9 December to send the tentative deal to members for ratification.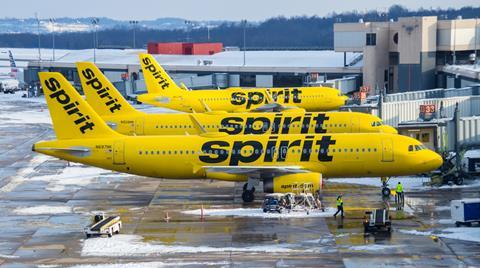 Pilot pay has been swelling around the industry amid an acute pilot shortage for major, discount and regional airlines alike. For example, Republic Airways pilots represented by the Teamsters Local 357 union in early October won raises ranging from 54% for captains to 70% to 90% for first officers.
In August, thousands of pilots at Mesa Airlines, CommuteAir, Piedmont Airlines, PSA Airlines and Envoy Air – all represented by ALPA – secured new contracts with higher wages. More recently, some of the same airlines have also dangled signing bonuses of $100,000 to attract qualified candidates.
Miramar, Florida-based Spirit, a discount airline operating an all-Airbus fleet of 184 aircraft, has been slow to recover from the Covid-19 pandemic, posting a $36.4 million loss in a third quarter of 2022. Ted Christie, Spirit's chief executive, admitted its quarterly performance – dogged by operational challenges, high fuel costs and weather-related disruptions – was "disappointing" during a 27 October earnings call.
Spirit is tentatively set to be acquired by rival discount airline JetBlue Airways in a deal that is pending federal regulatory approval.