North American airline pilots continue to make collective bargaining maneuvers as discussions are set to begin between WestJet pilots represented by the Air Line Pilots Association, International (ALPA) and the Calgary-based carrier.
The leadership of WestJet's ALPA pilot group, or master executive council (MEC), on 2 September said that it wants the airline to "recognize the pilots' professionalism and contributions to the success of the airline" with its next collective agreement.
The airline pilot union is seeking a new deal "consistent with contracts of similar pilot groups within North America," ALPA says.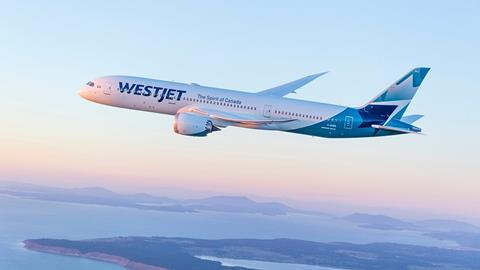 ALPA cited the sacrifices of WestJet pilots – which included a nearly 70% reduction in pay and almost half of pilots being furloughed during the coronavirus crisis, the group says – as being critical to the success of the airline as it recovers from the pandemic.
"We have done our part to help the company remain competitive and expect a new contract that will help attract and retain experienced, qualified pilots who will look at WestJet as a career destination," says Dave Kingston, chair of the MEC.
ALPA has recently been successfully leveraging the industry-wide effort to attract and retain more pilots to keep pace with the summertime surge in demand for air travel. Late last month, the union won pilot pay gains for thousands of cockpit crew at US regional airlines such as Mesa Airlines, CommutAir, Piedmont Airlines, PSA Airlines and Envoy Air.