Transat AT, the parent company of Canadian holiday specialist Air Transat, says its merger with Air Canada is still on track and now due to close in the fourth quarter of 2020.
Montreal-based Transat says on 11 June that it is "firmly committed to completing the transaction". But, it adds that factors "beyond its control" and related to the global coronavirus pandemic have delayed the tie-up, which received overwhelming approval by shareholders last year.
Originally, the merger with fellow Montreal-headquartered Air Canada had been scheduled to close in the second quarter.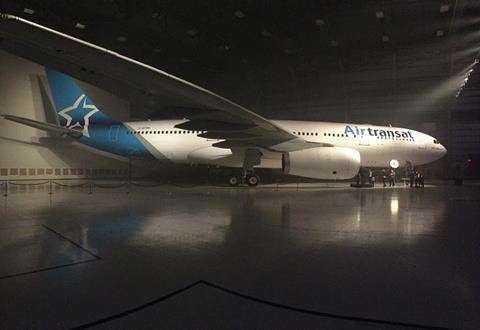 "The market conditions of the global industry have been completely transformed. Among other things, the vast majority of North American, European and international air carriers have announced reductions in capacity and requested financial assistance measures," Transat writes on 11 June. "This could impact the possibility of reaching an agreement with regulatory authorities regarding an appropriate package of remedies aimed at obtaining the necessary approvals."
The merger has been under scrutiny for quite some time from various regulatory agencies.
The European Commission announced on 25 May that it will undertake an in-depth investigation that will not be complete until at least October. In March, Canada's competition watchdog, the Competition Bureau of the government of Canada, also said it was taking a closer look at the transaction after expressing "competition concerns".
"If the required approvals are obtained and the conditions are met, it is now expected that the arrangement will be completed during the fourth quarter of the 2020 calendar year," Transat says. "Under the arrangement agreement, the deadline for obtaining the regulatory approvals cannot be extended beyond December 27, 2020."
Last August, Transat's shareholders approved Air Canada's C$720 million ($530 million) takeover bid for the company. That calculates out to C$18 per share. The transaction, if approved, would merge the number one and number three airlines in the Canadian market.
Calgary-based WestJet, Canada's second-largest airline, said earlier this year it was watching the transaction closely, fearing the merger would skew competition to overseas destinations.
Earlier this month, reports emerged in French-Canadian media that Air Canada was looking to exit the deal due to liquidity issues following the sharp decline in demand as the coronavirus brought air travel to a near-standstill in April. These reports were not confirmed.
Transat also says on 11 June that it expects to resume flights and tour operator activities on 23 July, pending the easing of travel restrictions in the countries to which it flies. It suspended operations on 1 April.
The airline anticipates it will fly a reduced schedule until the end of October, service 20 destinations, including 13 in Europe, five in the United States, Mexico and Caribbean, as well as some domestic connections. It will then expand its schedule with additional frequencies and destinations "based on border openings and de-confinement measures in place".