Canada's Air Transat will be laying off more flight attendants and closing a west-coast base in the coming weeks as the coronavirus continues to take its toll on the country's air transport industry, the Canadian union for public employees (CUPE) says.
"The Air Transat component of CUPE has just learned that the number of its flight attendant members will drop to less than 160 in November, from a total of 2,000 employees in normal times," the union writes on 16 October. "Air Transat's Vancouver base will be closed completely until further notice."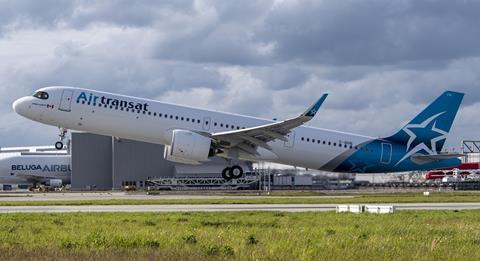 The Montreal-based vacation specialist had completely suspended flight operations in April as coronavirus-prompted lockdowns and travel restrictions hit the Canadian air travel industry hard. The country continues to maintain strict rules on freedom of movement, including a mandatory 14-day quarantine period for all inbound passengers, including citizens.
Transat resumed flights on 23 July, a week before the end of the company's fiscal third quarter. As a result of just nine days of operation during that quarter, the company reported a 99% decline in revenue from the same period a year ago, with just C$9.5 million ($7.2 million).
At one point Transat had brought back a high of 355 flight attendants, the union says.
The airline responds that since the beginning of the pandemic it has continually adjusted staff levels to forecasted capacity.
"With the Canadian borders remaining closed more hermetically than most countries and a quarantine imposed to those coming back to Canada, while no sectoral help has been put in place for airlines, the prospects are unfortunately not improving in the near future, so we have to furlough some of the employees that we had called back for our restart in July," the airline says.
About 66% of the airline's employees are currently on furlough, down from 85% in May, the company adds.
In order to help get the industry back on its feet and aviation professionals working again, CUPE is now also calling on the government to launch a comprehensive coronavirus screening programme so that the quarantine requirements can be lifted and customers can have more confidence in booking flights.
"All of our information indicates that Air Transat's resumption of activities in the summer and fall of 2020 was totally safe for passengers and staff," Julie Roberts, president of CUPE's Air Transat component says. "A rapid screening system that provides pre-boarding results would be a crucial addition for reviving the airline industry. We sometimes forget that more than 600,000 jobs in Canada depend on this industry, directly or indirectly."
Last week, Transat and Air Canada agreed on a sharply discounted price for the mainline carrier's planned takeover of the holiday specialist.
The two airlines stated on 10 October that Air Canada will now acquire all shares of Transat for C$5 per share, payable at the option of Transat shareholders in cash or shares of Air Canada at a fixed exchange ratio of 0.2862 Air Canada share for each Transat share, valuing the transaction at C$190 million.
That figure is down significantly from Air Canada's originally-agreed offer, approved by Transat shareholders more than a year ago, of C$720 million, or C$18 per share, to acquire the company.
Updated on 16 October to add a statement from Air Transat.