Transat AT, the parent company of Canadian holiday airline Air Transat, has effectively shut down revenue operations due to the coronavirus mitigation measures imposed by the Canadian government earlier this year.
"Following measures announced by the Canadian government, our operations are temporarily suspended until June 14, 2021," Air Transat says in an alert posted to its website on 11 March.
In late January, the government asked Canadian airlines to suspend flights to so-called "sun destinations" in the southern USA, Mexico and the Caribbean during the all-important spring break period, until 30 April, when winter-weary Canadians often travel to warmer climates.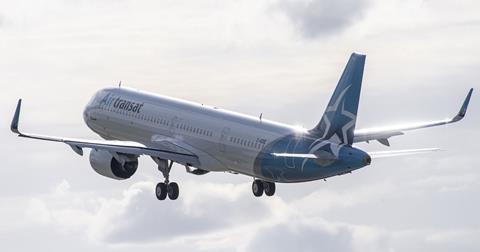 "We expect to restart our operations in mid-June, which marks the start of summer demand," says chief operations officer Annick Guerard on the carrier's fiscal first quarter earnings call on 11 March.
In addition to the flight suspensions – which all major Canadian carriers, including Air Canada, WestJet and Sunwing, also agreed to – passengers arriving in Canada are subject to a coronavirus test upon arrival and must quarantine at an approved hotel for three days pending the test result, at their own cost. This hotel stay can cost as much as C$2,000 ($1,595), government officials have said.
If the test is negative, the traveller may spend the rest of a mandated 14-day quarantine at home under "increased surveillance measures". The government has hired private security firms and engaged local and provincial police forces to help in these efforts.
Should the test result be positive, the traveller is transferred to a "government quarantine centre" to be closely monitored for the rest of the isolation period.
The measures are in response to more virulent variants of the coronavirus which could be more lethal as well, the government said.
Depending on travel restrictions in place at the end of April, Transat plans to restart a "modest programme" of flights, which will include domestic routes, some transborder flying to the USA, "a few medium-haul sun destinations and some key European destinations", Guerard adds.
"We don't know if the restrictions at the border will be lifted or if they will remain [after 30 April]," Guerard says. "We plan to operate as of mid-June. However, this could be reviewed depending on several factors, including coordination between countries and how travel will be managed moving forward, establishing protocols and standards that will allow people to travel from one country or one zone to the other."
"We are all waiting to receive more feedback on how this is going to work," she says, adding the airline is "ready to increase capacity in a short period of time".