The planned acquisition of Transat AT by Air Canada continues to be in limbo after the terms of the deal expired on 15 February without the necessary approvals in place to complete the transaction.
The tie-up, which was approved by the cabinet of the Canadian government last week, has not yet been green-lighted by the European Commission, a necessary step before it is to go into effect.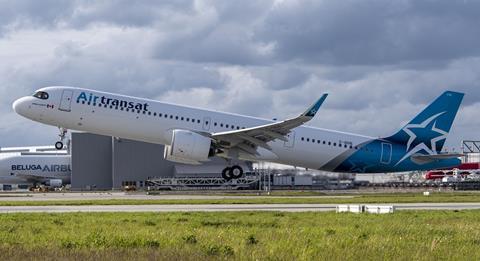 Montreal-based vacation specialist Transat says on 16 February this EU approval is "now expected to be rendered only in the first half of 2021".
The parties had previously set a date of 15 February, also known as the "outside date", for the transaction to be concluded. Since that date has now passed, it can be terminated by either side at any time.
"Transat and Air Canada are continuing their discussions regarding potential amendments to the arrangement agreement that may be required," Transat says on 16 February. "In the context of such discussions, Transat has been informed by Air Canada that Air Canada will not agree to an extension of the current outside date."
Even if the agreement is amended, the termination clause would remain, Transat says. "There can be no assurance that an agreement on any such amendments will be reached, or that Air Canada or Transat will not terminate the arrangement agreement if the relevant circumstances so warrant."
Air Canada did not respond to a request for comment.
On 11 February, Transport Canada had announced approval of the acquisition, subject to several conditions, including job assurances, a commitment to maintain the airline's aircraft in Canada (preferably in Quebec), the launch of new destinations within the first five years, and what the government calls "a price-monitoring mechanism".
In addition, the airline must "facilitate and encourage other airlines to take up former Transat AT routes to Europe". Prior to the pandemic, Air Transat was flying to France, Portugal, Spain and the UK.
The two airlines had announced the deal in August 2019, and had expected it to close by mid-2020. But the global coronavirus crisis and ensuing industry crisis put the brakes on those plans.
The precipitous decline in business prompted Air Canada last October to slash the price it was willing to pay for its Montreal-based peer to C$5 ($3.94) per share from its original offer of C$18 per share. Transat's shareholders overwhelmingly approved the new offer in December, seeing it as a lifeline for the ailing company.
Updated on 17 February to add that the cabinet of the Canadian government approved the transaction last week.