The US Department of Transportation (DOT) has issued Connect Airlines a certificate of convenience and necessity, clearing the way for the start-up to begin FAA-mandated proving runs ahead of launching revenue service later this year.
The Bedford, Massachusetts-based regional carrier says on 6 July that the DOT has also tentatively approved Connect's certificate authorizing foreign scheduled air transportation.
The airline plans to introduce service between Billy Bishop Toronto City airport and two US destinations: Chicago O'Hare International airport and Philadelphia International airport. The routes will initially be served with 76-seat De Havilland Canada Dash 8-400 turboprops, of which it now has two examples.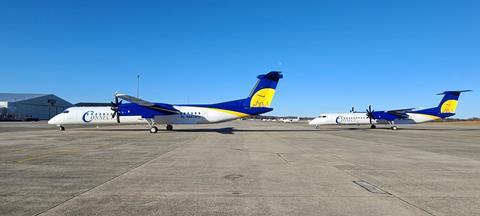 "This major milestone allows us to deliver a smarter and more sustainable travel experience," says Connect Airlines chief executive John Thomas. "We look forward to completing our regulatory process with the FAA and DOT to ensure our pending service will meet our promise to passengers."
The proving runs will begin on 18 July, and last approximately four weeks, the carrier says. Thomas had told FlightGlobal in June that it was looking to launch revenue service by August.
But the airline will also still need to secure a foreign air operating certification from Transport Canada before it can begin servicing the trans-border routes.
"Connect will work closely with the FAA towards successful completion of the certification process, then subsequently apply for Canadian authorizations," the company says.
Connect Airlines is a brand under an existing company called Waltzing Matilda Aviation, which is based in Bedford, Massachusetts and operates Cessna Citation Excels, Bombardier Challenger 604s and ERJ135s.
Thomas, who is also Waltzing's co-founder, was CEO of Virgin Australia in 2016 and 2017. He also has experience as an airline consultant in the USA, having worked on projects including the Delta Air Lines-Northwest Airlines merger, Delta's joint business with Virgin Atlantic and Alaska Airlines' purchase of Virgin America.
He chose initially to serve Billy Bishop because Toronto is among the largest North American air travel markets, and because Billy Bishop has limited competition. Porter Airlines flies to 12 cities from the airfield, and Air Canada serves two. Most of Air Canada's flights, as well as those of other airlines serving the city, depart from the much larger Toronto Pearson International airport.
Connect has secured 16 slots – allowing for eight daily round-trip flights – at Billy Bishop during the northern summer season, and expects to secure more for the coming winter. Thomas has said the carrier plans to add further US destinations from Toronto later.
Last month, Connect Airlines said it signed a firm order with Universal Hydrogen for up to 100 ATR 72-600 turboprops, with deliveries scheduled to begin in 2025.
At the time, Thomas said the carrier is "committed to being the world's first true zero-emission airline".