US aviation regulators report that US start-up regional carrier Connect Airlines has been struggling to meet Federal Aviation Administration certification requirements ahead of its plan to launch flights between the USA and Canada.
The Massachusetts-based carrier on 16 June had asked the US Department of Transportation to extend until 5 October its deadline to begin flying. The carrier's FAA-issued interstate and foreign operating authorities had required it to start flights by July and September 2023, respectively.
The company is working to launch flights using De Havilland Canada Dash 8-400s, starting with routes from Philadelphia and Chicago to Billy Bishop Toronto City airport.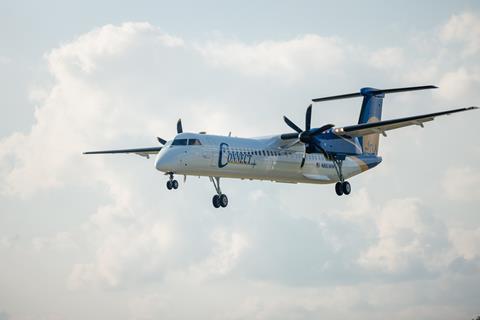 In a 5 July response, the DOT stopped short of granting the extension but allowed Connect until 4 August to provide evidence it is making progress on completing FAA requirements.
"It does not appear that Connect has made satisfactory progress toward obtaining FAA authority," the DOT's response says, adding, "The FAA previously notified the department that Connect's proving flights were terminated".
"Connect must provide adequate evidence that it still meets the department's fitness criteria and that the applicant is making satisfactory progress in obtaining the required safety authority from the FAA," the letter reads.
The DOT also cites Connect's "predominate foreign capitalisation" as an obstacle to certification, requiring the carrier to present evidence it has "obtained equivalent capital contributions from US citizens".
"Connect provided no information with its waiver and extension request to enable us to determine that Connect continues to be fit, or evidencing additional capital contributions from US citizens," the DOT says.
The airline provides a differing account of its certification progress.
Scott Brownrigg, Connect's director of public affairs, says the company will fly more proving runs for the FAA, and that the certification process has "many phases".
"There is an error in the DOT letter, as Connect's certification process is continuing," he says. "We continue to work with the FAA and as part of the normal certification process. They will be doing final manual reviews very shortly."
"All along, we have been working with the FAA to ensure we demonstrate all safety performance standards," he adds.
Brownrigg does not respond to questions about the regulators' specific safety and capitalisation concerns.
Additional proving runs will be completed "later this summer", which is why Connect requested an extension to the DOT's "dormancy" provisions, he adds. Under those provisions, the DOT revokes interstate and foreign air operating authorities one year after issuance from carriers that have failed to start flying.
"Connect has diligently prosecuted its FAA application since the department issued its certificates," an attorney representing Connect writes in the company's 16 June extension request. "This process has been unusually complicated given Connect's desire to operate interstate, flag and supplemental services. Accordingly, Connect's request for additional time to make its certificate effective is well founded."
The airline cites its potential to reduce CO2 emissions with more-efficient turboprops, connect underserved communities and increase competition at Billy Bishop as reasons why its extension is "in the public interest".
Connect is a brand under existing company Waltzing Matilda Aviation, which is based in Bedford, Massachusetts and operates Cessna Citation Excels, Bombardier Challenger 604s and Embraer ERJ-135s.
The airline intended to begin operations as soon as August of last year, banking on the efficiency of its turboprops and seeking to compete with Porter Airlines out of Billy Bishop.
"We thought there was a great opportunity for a US carrier to go into Billy Bishop… To connect that [airport] to some of the major routes in the US," chief executive John Thomas told FlightGlobal in June 2022. "The point-to-point traffic to Toronto is very important, but the connecting traffic will really underpin the economics of the operation."
Connect Airlines also intends to become the first carrier to use Universal Hydrogen's propulsion technology for regional passenger service. In February 2022, Connect placed an order to convert 75 ATR 72s with Universal's hydrogen propulsion systems, and purchase rights for an additional 25 conversions.
Connect also has regulatory hurdles to clear with Transport Canada before it can launch trans-border revenue flights.