Airbus is to support its effort to hike monthly A320neo-family production to 75 aircraft through a renewal of its transatlantic logistics vessel fleet.
The airframer has commissioned three new roll-on, roll-off ships – which will incorporate wind-assisted propulsion – for service entry in 2026.
Airbus uses ships to transport A320neo sections from Saint-Nazaire to its US assembly line in Mobile.
Each of the new vessels will be able to carry six single-aisle sub-assembly sets, comprising fuselage, wings, engine pylons, fin and horizontal stabiliser.
The current ships used by the airframer typically accommodate three or four sets.
Airbus says the new vessels will also have capacity for seventy 40ft containers.
It is commissioning the ships from Louis Dreyfus Armateurs, which will build, own and operate them on the manufacturer's behalf.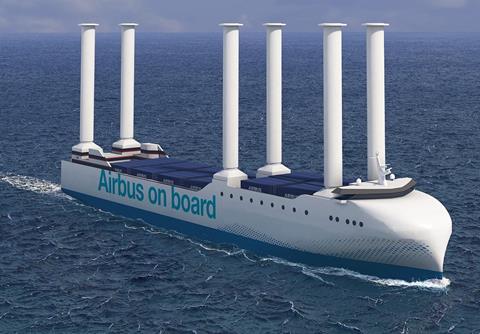 The propulsion system will include six vertical rotating cylinders, known as Flettner rotors, as well as two dual-fuel engines capable of operating with e-methanol as well as diesel.
Flettner rotors spin around their vertical axis and, in the airflow of a crosswind, produce a perpendicular driving force, a phenomenon known as the Magnus effect.
"Routing software will optimise the vessels' journey across the Atlantic, maximising wind propulsion and avoiding drag caused by adverse ocean conditions," says the airframer.
Airbus has been looking to increase the engine efficiency of its shipping fleet, and previously disclosed that it would test a rigid vertical sail system on one of its vessels next year.
The new ships will more than halve annual carbon emissions by 2030, the company claims.
"Renewal of our marine fleet is a major step forward in reducing our environmental impact," says head of sustainability Nicolas Chretien.
Airbus's introduction of the new vessels will coincide with its ramp-up of A320neo-family production to 75 aircraft per month in 2026.