Airbus has signed a series of agreements with Indian companies to locally produce airframe and wing parts for the A320neo, A330neo, and A350.
The supply agreements have been signed with two contract manufacturers, Aequs and Dynamatic, as well as Mahindra Aerospace, a unit of India's Mahindra & Mahindra automotive group, says Airbus. The Indian operation of UK firm Gardner Aerospace also secured work from Airbus.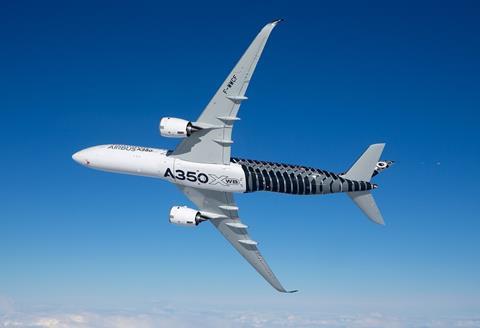 Airbus says that signing up the new suppliers will help it ramp-up its aircraft programmes, while also supporting India's aviation sector expertise in areas such as sheet metal, machining, and extrusion profiles.
"Make in India is at the core of Airbus' strategy in India. We are proud that we are putting in place all the critical building blocks for an integrated industrial ecosystem that will propel India into the front ranks of aerospace manufacturing nations," says Rémi Maillard, president and managing director, Airbus India and South Asia.
"For Airbus, India is not just a market but a strategic resource hub for both human capital and aerospace components and services. We are proud to extend our partnership with Aequs, Dynamatic, Gardner and Mahindra Aerospace who are all trusted Airbus partners in India delivering with sound technical expertise and operational excellence."
The new contracts follow Airbus's allocation of the A320neo family cargo and bulk cargo doors to another Indian company, Tata Advanced Systems, earlier this year.
Airbus adds that India currently produces components and services that are worth $750 million annually.