Uzbekistan-based start-up Air Samarkand is set to open services from the city whose name it bears by the end of this year.
The new airline intends to operate Airbus flights from Samarkand to cities in Turkey, Vietnam, China, Malaysia and Indonesia.
Samarkand is the second-largest city in Uzbekistan after the capital, Tashkent, and has a population of around 600,000.
But the carrier believes it can access a catchment of 12.6 million and plans an initial network of some 25 destinations.
The airline says it aims to build a fleet of five aircraft – including A330 and A320-family jets – within the next two months, and plans further expansion over the course of a year, including routes to European cities.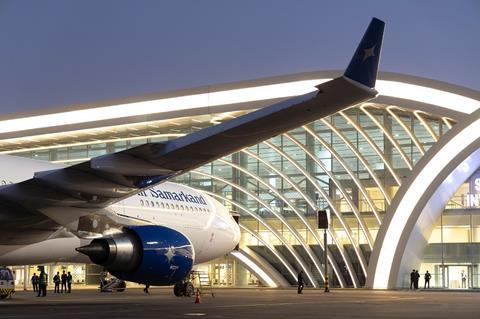 "Launch of this new airline is a significant event for the future development of Uzbekistan as a tourism, cultural and business centre," says founder Bakhtiyor Fazylov.
"Over the past year we have implemented a large-scale project to develop the 'Silk Road Samarkand' tourism centre, which has already begun to bring the tourism potential of the region to a qualitatively new level, combining ancient heritage with modern infrastructure and facilities."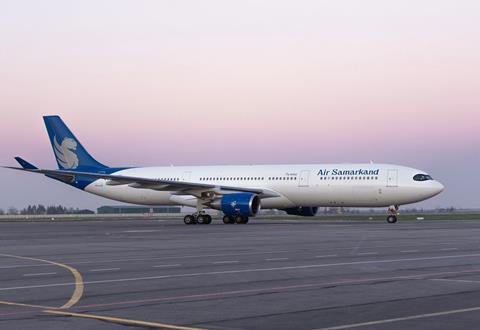 The carrier has already acquired an A330-300 – identified as MSN1177, originally delivered to China Airlines in 2010 and powered by General Electric CF6 engines.
It received the aircraft at Samarkand airport on 2 November. The twinjet is configured in two classes, with 36 business and 277 economy seats. The aircraft arrived carrying the Guernsey registration 2-LCCV, attributed to Bluesky 6 Leasing Company, according to the island's official registry.
The carrier states that, by operating directly from the city, it will "remove the current need to use time-wasting flight connections to Tashkent and other regional airports".
Air Samarkand plans to introduce a second aircraft – an A321 – over the next few days.