Spirit AeroSystems is working to renegotiate loss-making supply contracts with Airbus and to refinance more than $1 billion in debt coming due in 2025, efforts executives describe as requiring urgent attention.
"Between us and Airbus, we have to come to some solution," Spirit interim chief executive Patrick Shanahan said on 1 November. "It is a near-term action that I am committed to undertaking, and my counterparts at Airbus feel the same sense of urgency."
His comments came the day Spirit said it lost $204 million in the third quarter of 2023, bringing its losses to $692 million for the first nine months of the year.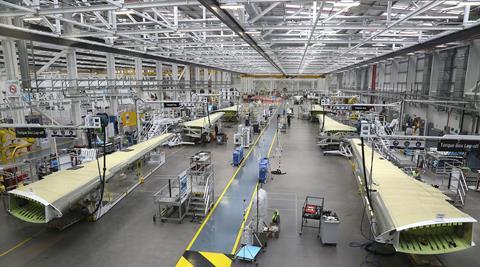 Meanwhile, Spirit has been burning cash, ending September with $374 million, down from $659 million at the end of 2022.
The cash situation has Spirit chief financial officer Mark Suchinski scrambling to refinance some $1.2 billion in debt coming due in 2025.
"It is a near-term priority [that] we get the financing down before the debt becomes short term," says Suchinski. "There is a sense of urgency there."
"We have a near-term financial problem," adds Shanahan.
Wichita-based Spirit in recent years has reported financial troubles with many of its commercial aircraft programmes,most notably its supply of 737 fuselages to Boeing.
But several other programmes – specifically the manufacture of composite structures for 787s, and Airbus A220s and A350s – have also proved financially challenging.
The company's third-quarter results partly reflect forward losses of $101 million it took during the period due to factors including labour and supply costs on its 787 and A350 work.
Also during the quarter, Spirit took a $64 million negative adjustment due to 737 rework and "factory performance costs", and $56 million in excess capacity costs, a consequence of plants not running at optimal rates.
The company delivered components for 1,020 aircraft in the first nine months of 2023, up slightly year on year. However, that is still down on the same period of pre-Covid 2019, when Spirit shipped structures for 1,339 jets.
Spirit has started addressing its Boeing issues, disclosing in October a new supply deal with the US airframer. Boeing has agreed to provide Spirit with $100 million to fund 737 and 787 rate increases, and consented to 737 and 787 price changes that Spirit says will provide it with $455 million more revenue through 2025.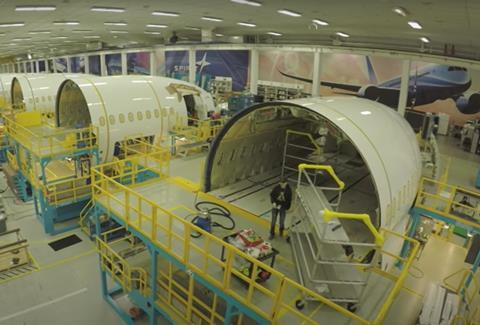 Now Shanahan is turning his attention to Airbus, highlighting issues manufacturing advanced materials for jets like A220s and A350s. Spirit produces composite wings for A220s and A350 composite centre fuselage sections.
"The production [systems], when those designs were certified, were really immature… The performance that we should be realising out of the manufacturing system just isn't there," Shanahan says. "I think we will be able to get to the place that makes sense for both parties."
"Between us and Airbus, we have to come to some solution," he adds.
Airbus declines to comment about discussions with suppliers.
Shanahan expresses confidence the effort will not jeopardise Spirit's ability to land future contracts from Airbus, citing the advanced state of his company's composite manufacturing work.
Renegotiating its Airbus contracts is unlikely to be as financially beneficial to Spirit as its new deal with Boeing, says a 1 November research report from JP Morgan. However, it adds, "Any agreement should shore up Spirit's financial outlook ahead of its 2025 maturity and limit the impact of loss[-making] programmes".
But JP Morgan questions why Spirit should remain an Airbus supplier, considering the financial issues and Airbus's interest in strengthening its own structures manufacturing capabilities.