Airbus and Boeing are facing increasing pressure from suppliers to renegotiate contracts that have turned unprofitable amid slow production, high inflation and other post-pandemic business challenges.
In recent weeks, executives of two large publicly-traded aerospace suppliers – Wichita's Spirit AeroSystems and Italy's Leonardo – said they are seeking to stem losses by securing new contract terms with the aircraft manufacturers.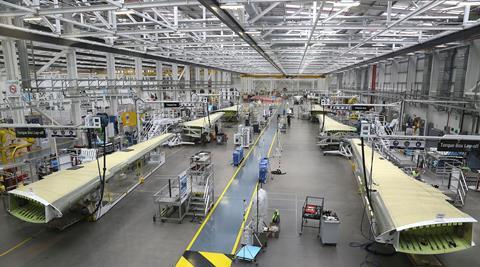 But other suppliers, including small private firms, are quietly doing the same, say aerospace analysts. They are seeking to escape discount price deals that might have made sense at high rates of production and in healthier times, but do not today. Some deals were struck last decade when Airbus and Boeing were wringing price cuts from suppliers in exchange for more volume.
"Those cost reductions and unfavourable contracts were perhaps acceptable at higher volumes and lower inflationary rates, but the cost structure has dramatically changed," says Alex Krutz, managing director at aerospace and defence advisory Patriot Industrial Partners.
Boeing's "strategy of crushing the supply chain into a fine aluminium powder is maybe not working so good", says aerospace analyst Richard Aboulafia with AeroDynamic Advisory. He was referring to Boeing's effort last decade to squeeze lower prices from suppliers.
"There will certainly be other suppliers that follow [Spirit and Leonardo]," Aboulafia adds.
Airbus and Boeing decline to specifically discuss possible renegotiations with suppliers. "We address agreements with suppliers on an individual basis," Boeing says.
"We can't comment on any confidential discussions we may or may not be having with our suppliers," adds Airbus.
Both manufacturers undertook widescale efforts last decade to achieve lower costs from suppliers. At the time, Airbus and Boeing were boosting narrowbody aircraft production and competing fiercely for sales of their next-generation jets – Boeing's 737 Max and Airbus's A320neo-family aircraft.
Boeing said its effort – called Partnering for Success, launched in 2012 – would improve quality and efficiency and "reduce the spiralling costs of product development", according to its 2012 annual report. Boeing reportedly sought 15% price cuts from some suppliers and secured extended payment terms.
Airbus called its similar effort the "Single-aisle Cost Optimisation Programme-plus", or 'Scope+'.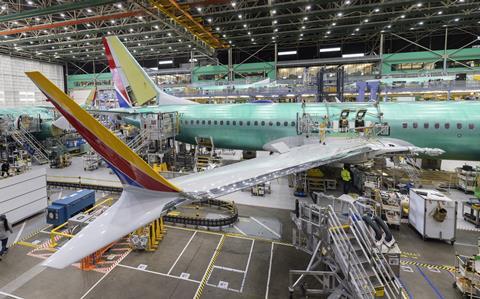 Some suppliers locked themselves into long-term contracts that no longer work. The agreements can last five or 10 years, or even through the life of a programme, and some lack inflation-escalation clauses, Krutz notes.
He also says some companies agreed to contracts they knew would not make money because they expected to offset losses with profits from other work.
"Some [suppliers] may have been profitable on 737 [work] but took losses on 787 [work]," Krutz says.
That strategy might have worked in normal times and with production rates increasing, and might have seemed sound considering the booming state of the industry last decade. In 2018, Boeing was producing 52 737s monthly and planning for higher rates. It was producing 14 787s monthly before the pandemic.
Then regulators grounded the 737 Max in 2019, prompting Boeing to trim Max production. Shortly after, production rates across the industry further slowed during the Covid-19 pandemic.
Aerospace manufacturers have for several years been trying to rebound. But their efforts have been hampered by much higher expenses, elevated interest rates and labour shortages.
"It's a combination of previous price cuts and unfavourable contracts in an inflationary and low-volume environment," Krutz says.
Boeing this year brought its production up to 31 737s and four 787s monthly, but getting there was not easy. It aims to be producing 50 737s and 10 787s monthly by 2025 or 2026.
"The supply chain is going to be in recovery for a couple years," Krutz adds. "It [has] a long-term sickness that it's recovering from."
Some suppliers are turning to Airbus and Boeing for help.
Spirit in October said it had reached new terms with Boeing. The aircraft manufacturer agreed to provide Spirit with financing to help fund 737 and 787 rate increases, starting with $100 million, and consented to price changes Spirit says will give it $455 million more revenue through 2025.
Then on 1 November, Spirit interim chief executive Patrick Shanahan said his company is also seeking new terms with Airbus.
"Between us and Airbus, we have to come to some solution," Shanahan said. "It is a near-term action that I am committed to undertaking, and my counterparts at Airbus feel the same sense of urgency."
He spoke the day Spirit reported losing $692 million in the first nine months of 2023, much of which Spirit has attributed to losses and charges against its commercial aircraft programmes, including its 737, 787, A220, A320 and A350 work.
Spirit has said its composite manufacturing programmes have particularly struggled due to escalating costs, low production rates and a slow learning curve. The company's composite work includes 787 forward fuselage sections, A350 centre fuselage sections and A220 composite wings.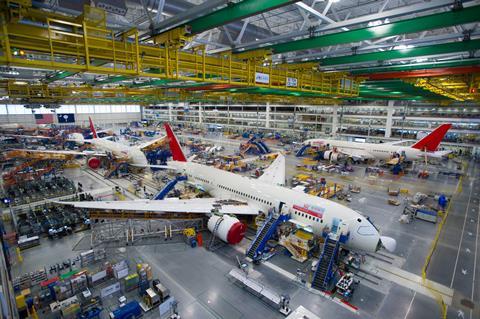 Leonardo followed on 9 November when executives said it, too, was seeking to renegotiate a 787 work package with Boeing. Leonardo makes 787 centre fuselage sections and horizontal stabilisers. Its aerostructures business lost €127 million ($138 million) in the first nine months of 2023.
"We are looking to have a better alignment to the current environment of cost inflation that we are all living in and see that reflected in a new agreement with our customer," says chief financial officer Alessandra Genco.
Krutz says many other aerospace companies have quietly been having price discussions with Airbus and Boeing, and that the public firms likely spoke up because they "have not been successful in what they have been trying to achieve".
"They are putting it in a public space for pressure," he says.