Airbus is to fit one of its transport vessels with three vertical rigid sails for wind propulsion, which include features to improve airflow adherence.
The sails will be installed on the Ville de Bordeaux, which was formerly used as part of the A380 logistics chain but which currently carried A320neo-family sections from Europe to Airbus's US final assembly line in Mobile.
Spanish company Bound4blue has developed the devices – known as 'eSAILs' – which are 22m in height and capture wind energy to generate thrust.
Airbus says the sails feature an electric-driven suction design which enables the airflow to adhere more effectively to the sail for greater efficiency and lift – up to seven times the lift from conventional rigid sails, the airframer claims.
The sails will be fitted for a six-month test period which will commence early next year.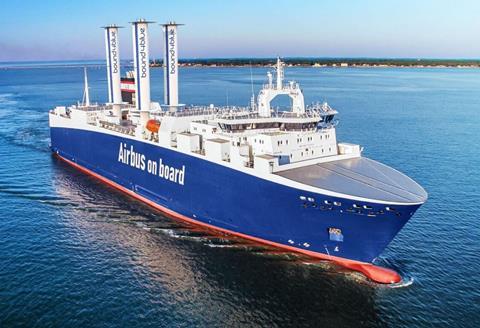 "This technology looks promising and we are eager to start testing it in real conditions by the end of the year," says Airbus head of sustainability Nicolas Chretien.
Wind assistance as a possible energy source for maritime operations has been explored by the company for several years, he adds.
Airbus charters the vessel from Louis Dreyfus Armateurs, whose transport and logistic general manager, Mathieu Muzeau, says the company is "eager to identify and test" various types of wind-based propulsion – including flexible, rigid, and rotating vertical sails, as well as wings.
"This deployment will mark the first-ever fixed suction sail installation on a [roll-on, roll-off] ship," says Bound4blue chief technology officer David Ferrer. He says this will demonstrate that such sails can be fitted – without compromising stability – on ships with a high weather deck and large windage area.
Airbus has already previously tested wind technology on the Ville de Bordeaux with the installation of a 500m² kite, known as the Seawing, designed to help tow the ship. The Seawing was developed by Airseas, founded by former Airbus engineers.