US business aircraft charter company Wheels Up has acquired aircraft operator Gama Aviation Signature, a move that continues the former's rapid expansion following a recent equity sale to Delta Air Lines and merger with the carrier's private aviation unit.
Wheels Up provides aircraft charters and charter membership programmes, but relies on other companies, including Gama Aviation Signature, to operate aircraft on its behalf.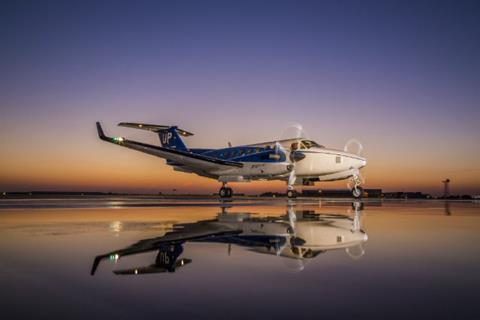 ­
Wheels Up has now acquired Gama Aviation Signature, a Connecticut company that has operated Beechcraft King Air 350i turboprops, Cessna Citation Excel/XLS and Citation X business jets for Wheels Up since 2013, it says.
Wheels Up does not disclose the price paid for the business, which provides a range of other services, including aircraft management and maintenance, and charter work.
Gama Aviation Signature is 49% owned by GB Aviation Services - a joint venture between UK firms Gama Aviation and Signature Aviation - with the remainder held by US partners. Gama Aviation says it will receive $33 million from the sale: $10 million for its 24.5% stake, plus $23 million for "acelerated branding fees and and other trading-related considerations". That price suggests that Wheels Up will pay around $40 million for the equity in the business alone.
The acquisition continues Wheels Up's efforts to expand its fleet and to step into the aviation management services business, supporting a vision to offer a "full ecosystem" of private aviation services, says chief executive and founder Kenny Dichter.
Gama Aviation Signature will continue operating as a wholly owned subsidiary of Wheels Up, it says, although the UK company says it has licensed the use of the brand for two years. Gama Aviation has also signed a five-year "non-compete" agreement in respect of Part 135 charter operations in the USA.
In late January, Delta acquired 27% of Wheels Up for an undisclosed sum. At that time, Delta merged Wheels Up with its in-house charter business Delta Private Jets, which operated some 70 aircraft.
In June 2019, Wheels Up acquired light jet operator Travel Management Company, and in September last year acquired Avianis Systems, a technology company that has developed a digital flight and operations management system.
Story modified to clarify identity of the business being acquired, plus adds additional information from Gama Aviation in the fifth and seventh paragraphs.