Serial production of the Irkut SSJ-New, the domestically-modified variant of the Superjet 100, is scheduled to commence next year, Russian state technology corporation Rostec insists.
Rostec chief Sergei Chemezov says prototypes of the SSJ-New are being assembled at the Irkut plant in Komsomolsk, while certification structural testing of an SSJ-New airframe is planned to be completed in autumn.
Siberian aeronautical institute SibNIA is carrying out the structural testing at its centre in Novosibirsk.
"Checking the new version of the aircraft is necessary, since structural changes have been made to the airframe – the wing, fuselage, pylons and engine mounts, and landing gear have been updated," says Rostec.
Chemezov gave the update while marking 15 years since the first Superjet 100 conducted its maiden flight in May 2008. Over 200 have since been manufactured.
While several international suppliers produced parts and systems for the Superjet, the SSJ-New features a higher proportion of Russian-built components, notably its Aviadvigatel PD-8 powerplants and some 40 domestic systems including avionics.
"There is practically nothing imported," says Chemezov,
He says serial production, starting in 2024, will result in 20 SSJ-New twinjets being assembled per year.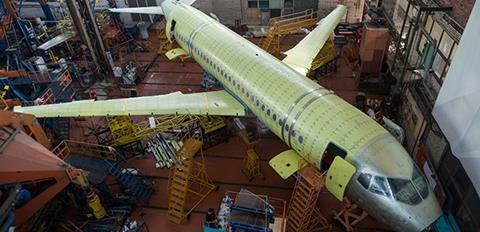 Russia's Aeroflot Group will take delivery of 34 aircraft over the course of 2023-25, and another eight will be built for eastern operator Aurora in 2024-26.
"As manufacturers of aviation equipment, this is a chance – a chance to enter the market, our own market, and occupy it," says Chemezov.
The PD-8 engine will not only be used on the SSJ-New. Rostec expects the powerplant to be adapted for the Beriev Be-200 amphibious firefighter, which is currently fitted with Ukrainian-built Ivchenko-Progress D-436 engines. It will also have applications for helicopters.
Russian news agency TASS cited deputy trade minister Oleg Bocharov as stating in April that the PD-8 should be certified by September this year, and start tests as part of an airframe.
Aviadvigatel has developed the PD-8 on the basis of the larger PD-14 for the Irkut MC-21. Two MC-21s have been fitted with PD-14s.
Chemezov told Russian prime minister Mikhail Mishustin, at a meeting in early May, that certification of the MC-21 would be completed in 2024, and the first six serially-produced aircraft released, complementing the 20 SSJ-New twinjets, while production of 10 Tupolev Tu-214s would take place in 2025.