Russian airframer Irkut's first SSJ-New twinjet is nearing initial flight tests, although the first aircraft will still be equipped with PowerJet SaM146 engines rather than domestically-built powerplants.
The decision to retain the SaM146 for the maiden flight is intended to "speed up" the test programme, says state technology corporation Rostec.
Rostec says the first Russian-built Aviadvigatel PD-8 engines will arrive at the Komsomolsk final assembly line "in the coming weeks".
These PD-8s will be fitted to a second SSJ-New prototype.
The SSJ-New is a modified version of the Superjet 100 that features a higher proportion of domestically-produced systems and components, intended to reduce the aircraft's reliance on foreign imports.
"We have reached the finish line of preparing the SSJ-New for its first test flight," says Rostec first deputy general director Vladimir Artyakov.
"The first flight will take place in the near future, after ground checks of the equipment."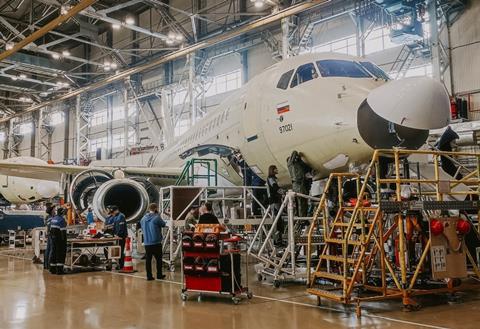 Members of a scientific-technical council have assisted with drawing up a list of necessary ground checks for the twinjet following a session dedicated to progress with the prototype aircraft.
"Within a few weeks, we will begin factory development tests, within which the first flight will take place," says Irkut general director Andrei Boginsky.
Federal air transport regulator will then be involved in the certification programme to approve the imported equipment on the SSJ-New.
"This will allow the start of serial production and commercial operation of the aircraft," says Boginsky. "At each stage of testing, our unconditional priority will be to ensure the safety and reliability of equipment, because soon this aircraft will have to carry passengers."
Artyakov says the SSJ-New and the Irkut MC-21 are set to become fundamental to Russian airlines' fleets.
"We understand how important this aircraft is for our country, and we are therefore doing everything possible to put it into serial production as soon as possible," he adds.