Russian airframer Yakovlev has carried out the maiden flight of its prototype SJ-100, the Superjet variant developed with a greater proportion of domestic equipment.
The aircraft, number 97021, took off from Komsomolsk-on-Amur on 29 August, with three crew members on board, and flew a sortie lasting 54min.
State technology corporation Rostec says the twinjet flew at altitudes up to 3,000m (9,800ft) and speeds of 185kt.
"Stable operation of all domestic systems, and the controllability and stability of the aircraft in the air were confirmed," it says.
Yakovlev is developing the aircraft – formerly known as the SSJ-New before Irkut adopted the Yakovlev name – as part of a broader strategy to reduce dependence on foreign imported components in the Russian aviation industry.
But the airframe flown during the maiden flight is still fitted with PowerJet SaM146 engines, the type used on its predecessor, the Superjet 100. Production versions will have the Russian-built Aviadvigatel PD-8.
Along with stability assessments, the crew carried out tests of the automatic pressure control system in the cockpit. During the landing approach the pilots also conducted a go-around.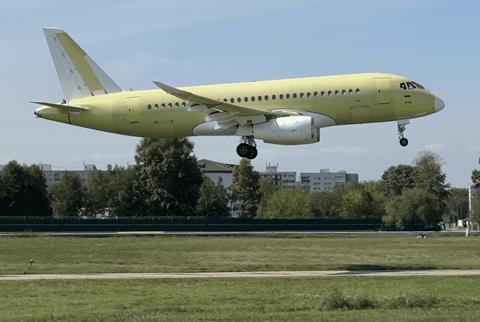 Russian trade and industry minister Denis Manturov says the maiden flight marks the success of "thousands of teams of businesses" which have produced new domestic counterparts for the avionics, landing-gear, auxiliary power unit, air conditioning and other systems.
About 40 systems have been replaced on the new aircraft, says Rostec.
Russian aerospace firm United Aircraft director general Yuri Slyusar says the domestic industries have "developed, assembled, and flown a virtually new aircraft".
"This is the best demonstration of the technological independence of our country," he adds. "We proved…that we can develop and produce modern civil aircraft on our own, without the involvement of imported technologies."
Slyusar says the next step is to certify the aircraft and begin delivery of serially-manufactured airframes to customers.
Use of the SaM146 engines enabled the test-flight programme to be accelerated, but the second prototype will have the PD-8 powerplants. These engines have been undergoing tests using an Ilyushin Il-76 testbed.
Yakovlev director general Andrei Boginsky says the time taken to develop the SJ-100 is comparable to that for the Airbus A320neo and Boeing 737 Max.
The airframer had indicated that first flight was nearing when it performed nose-gear lifting ground-runs of the SJ-100 the previous day.
These tests involved rotating the twinjet during acceleration so that the nose-wheel broke contact with the runway surface.
Yakovlev says the trials enabled the crew to examine take-off procedures as well as prepare for a safe abort. The aircraft has also undertaken shimmy tests.