Twenty proposed projects for the European Union's Clean Aviation scheme have been selected for funding, after a deadline for candidate programmes closed in June.
The strategic research effort is intended to advance promising technologies for developing new aircraft – hydrogen-powered, hybrid-electric regional, and ultra-efficient short-range models – and speed the decarbonisation of air transport.
Fourteen topics were covered by the broad call for proposals in March, as the Clean Aviation joint undertaking sought to distribute a funding budget of €736 million ($710 million).
These topics encompassed a diverse range of projects on such aspects as propulsion, wing design, hydrogen storage and combustion, electrical distribution, and low-weight fuselages.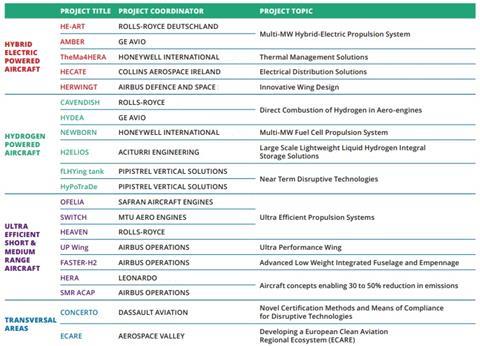 The projects selected for funding are led by major aerospace companies, among them Airbus, Rolls-Royce, Safran, GE Avio, Collins and Honeywell – and a number of them also serve as partners in the other chosen programmes.
"Swift adoption of these technologies from 2035 will enable the biggest step-change reduction in aviation's climate impact by 2050," says the Clean Aviation joint undertaking.
Formal launch of the projects remains subject to completion of grant preparations and other matters, but the organisation aims for these to be wrapped up by the end of this year.
"After completion of the grant negotiations, we can give the green light to start the critical research and engineering work to accelerate the transition to sustainable aviation," says the undertaking's executive director, Axel Krein.