European assessors are preparing to analyse initial proposals for the Clean Aviation initiative, intended to produce disruptive aircraft innovations, the deadline for which closes on 23 June.
The first call for proposals covers a total budget of €736 million ($772 million) and selection of candidates will be made in October, said Clean Aviation joint undertaking strategic development head Ron van Manen, speaking during the ILA air show in Berlin.
Fourteen topics are covered in this first call, including four apiece focused on hydrogen and hybrid-electric propulsion – among them the storage and combustion of hydrogen, innovative wing design, and electrical power distribution.
Another three address high-performance propulsion and wings, and low-weight fuselages, for short- and medium-range aircraft.
Clean Aviation is designed to deliver a 30% reduction in greenhouse gas emissions compared with 2020 aircraft.
Van Manen says the total number of submitted projects has yet to be confirmed. Successful consortia will be able to proceed on a low-activity basis from around October, although the actual funding negotiations are likely to continue until the end of the year.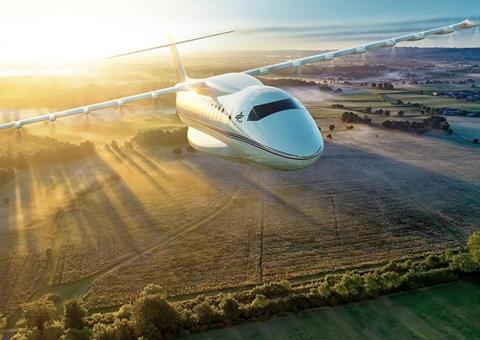 Clean Aviation is a €4.1 billion programme, part of the Horizon Europe scheme, of which the European Union contribution is €1.7 billion, with the rest being funded by the European aviation industry.
It is subsuming its €3.95 billion predecessor, Clean Sky 2, which runs to 2024 and is 90% complete.
Clean Sky 2 has led to such advances as the Rolls-Royce UltraFan engine, the Airbus 'Racer' helicopter demonstrator, 'smart' wing technology, and the development of lighter fuselage structures.
Van Manen says the challenge to curb emissions is "huge", pointing out that significant improvements in aircraft efficiency in the last 30 years have only served to produce "a lower exponential [emissions] curve".
"Efficiency is not the issue," he says. "Growth in the system is the issue."
Sustainable fuels and advances in technology are the key components in the strategy to achieve net-zero aviation emissions in 2050, accounting respectively for about half and one-third of the reductions.
With other transport and industrial areas moving to slash emissions, says van Manen, aviation "could become the bad guy" if it is unable to match the effort. But he adds: "[It's] one of the most difficult sectors to decarbonise."