Airbus is to take legal steps in a bid to resolve a dispute over the surface paint quality on A350 twinjets, having been unable to settle the matter with Qatar Airways.
Qatar Airways has been notably vocal about the issue of paint degradation on its A350 fleet, even taking steps to withdraw affected A350s from service, citing orders from the Qatari civil aviation regulator.
But Airbus argues that the surface paint findings have been "thoroughly assessed" and that the European Union Aviation Safety Agency has confirmed the issue has no airworthiness concerns.
"Safety is Airbus's top priority," says the company.
Airbus states that the matter is the subject of "ongoing mischaracterisation" and that, in response, it will seek an independent legal assessment.
"The attempt by this customer to misrepresent this specific topic as an airworthiness issue represents a threat to the international protocols on safety matters," the airframer adds.
Airbus says the two sides have been unable to settle the dispute through "direct and open" discussions, and that – while it "regrets" having to resort to legal channels – it is taking the "necessary" measure to defend its position and reputation.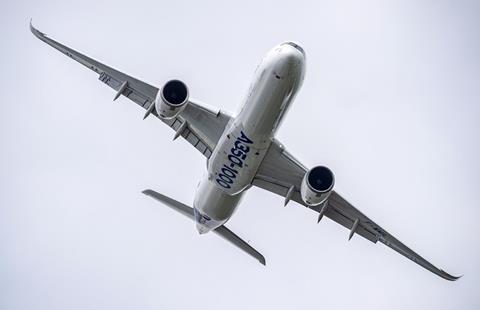 The airframer acknowledges that some customers might have experienced inconvenience caused by the surface degradation, and that it has been working with them to minimise the impact.
"These solutions have all been dismissed by [Qatar] without legitimate justification," it claims. While Airbus is trying to re-establish "constructive dialogue" with the airline on the matter, it says it is "not willing" to see continuing "inaccurate statements".
Qatar Airways chief executive Akbar Al Baker had stated, during an event in London at the end of November, that the carrier was unsure whether the matter was an airworthiness issue.
He said 20 of the carrier's A350s – of both the -900 and -1000 variant – had been "grounded", and that they were experiencing "accelerated degradation" of the fuselage skin.