Airbus insists Qatar Airways took the first legal steps in the bitter dispute over A350 skin-paint quality, and that the airframer still wants to find a solution despite responding with its own legal measures.
Qatar Airways has been vocal over the deterioration of fuselage surface paint on the type, and has withdrawn several A350s from service. Airbus believes the airline's claims are inaccurate and it is pursuing a legal assessment to defend its reputation.
Executive vice-president of programmes Philippe Mhun, speaking on 9 December, says the airframer has concluded its analysis of the paint issue and "the mechanism is understood".
He says stresses in non-structural layers of the fuselage can, in certain circumstances, lead to cracking of the paint and subsequent peeling through a "leveraging effect".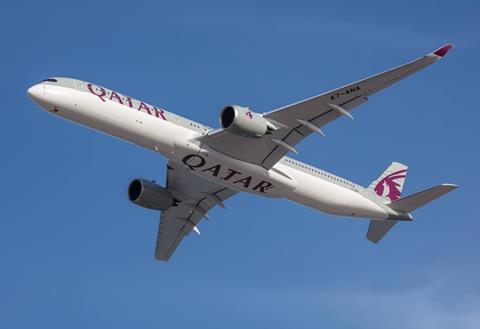 Mhun emphasises that the issue is "far" from the margins of the lightning-strike protection afforded by the expanded copper foil layer inside the fuselage barrel, and there is no crack propagation.
He says some other carriers have experienced "a few occurrences", depending on aircraft age and the operating environment, but "not to the extent" of the Qatar fleet.
Aircraft paint can be exposed to harsh environments including fluctuations in temperature and abrasive sandstorms, depending on the customer, and he points out that, while the A350 has a composite fuselage, paint on metallic fuselages can also be affected.
Airbus has proposed a "wide range of solutions" which are included in its maintenance documentation, says Mhun, and other customers have been implementing them. The airframer has also offered repainting services to Qatar.
But while Airbus has "put a lot of energy" into trying to return Qatar Airways' fleet to operation, the carrier has rejected the results, says Mhun.
"We want to resolve the dispute," he insists.
He states that the carbonfibre fuselages of the aircraft affected are maintaining "full structural capability" and that suggestions that the paint issue is an airworthiness matter are "without justification".