Qatar Airways has filed legal proceedings against Airbus over the A350 fuselage surface paint quality issue, the latest shot in an increasingly bitter dispute between the two sides.
The carrier says it has grounded 21 of its A350s, a mix of -900s and -1000s, out of a total fleet of 53 of the type.
Qatar Airways issued proceedings against the airframer at London's High Court on 20 December.
"We have sadly failed in all our attempts to reach a constructive solution with Airbus in relation to the accelerated surface degradation condition adversely impacting the Airbus A350 aircraft," the carrier states.
"[We have] therefore been left with no alternative but to seek a rapid resolution of this dispute via the courts."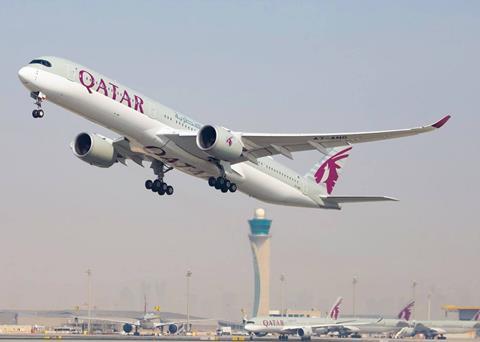 Airbus recently claimed that Qatar Airways had made the first move towards legal action, as the manufacturer disclosed on 9 December that it was seeking an independent legal assessment of the matter.
The airframer has argued that issue affecting Qatar's aircraft has been assessed by European regulators as having no effect on airworthiness, and that Qatar Airways continues to "misrepresent" the issue, to the detriment of Airbus's reputation.
Qatar Airways insists its concerns are "legitimate" and that the legal action is intend to "ensure" that they are addressed by Airbus "without further delay".
"We strongly believe that Airbus must undertake a thorough investigation of this condition to conclusively establish its full root cause," the carrier says.
"Without a proper understanding of the root cause of the condition, it is not possible for Qatar Airways to establish whether any proposed repair solution will rectify the underlying condition."
It adds that safety is the airline's "number one priority".
Airbus claims it has offered a range of solutions to Qatar Airways, but that these have been "dismissed" by the airline without good reason.
It confirms it has received the legal claim filed by the carrier. "Airbus is in the process of analysing the contents of the claim," it states. "Airbus intends to vigorously defend its position."