Airbus has secured formal certification of the 251t version of the A330-800, the highest weight variant available for the twinjet.
The airframer had indicated in February that certification tests on the aircraft were complete and that European Union Aviation Safety Agency approval was likely in April.
Airbus first flew the A330-800 in November 2018 and the basic aircraft was certified, with a maximum take-off weight of 242t, by EASA and the US FAA in February 2020.
Powered by Rolls-Royce Trent 7000 engines, the A330-800 is the shorter of the two A330neo variants.
Two weeks after -800's initial approval Airbus started test-flying the larger A330-900 at a higher take-off weight of 251t.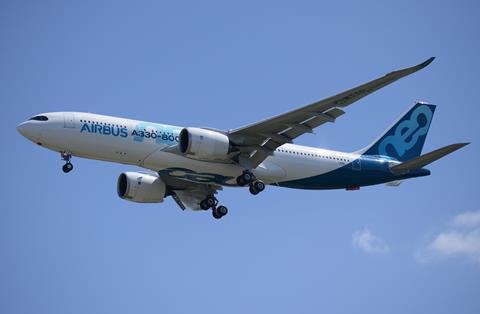 The airframer aimed to extend the A330neo's range by around 600nm with the weight hike, stating that both the -900 and the -800 would have this same 251t capability.
Airbus secured EASA certification of the 251t version of the A330-900 in October 2020, and subsequently delivered the first to French operator Corsair.
EASA tells FlightGlobal that it has certified the 251t weight variant of the -800 and expects to publish an updated type certificate over the next few weeks.
Airbus has orders for 11 A330-800s from Kuwait Airways, Garuda Indonesia, Uganda Airlines and Air Greenland. Four have been delivered – two to Kuwait and two to Uganda.