Southampton airport in the UK has obtained conditional permission for a short extension its runway, a project which the operator argues is crucial to the airport's long-term viability.
The local government authority, the borough council of Eastleigh, voted in favour of the application on 10 April.
Southampton's project involves a 164m (538ft) extension to the northern end of runway 02, which currently has a length of 1,723m.
The council says it has decided to permit the extension following "lengthy, extensive and robust debate" after listening to representations from residents, politicians and organisations favouring and opposing the plan.
But it adds that the decision is subject to a range of conditions and completion of a legal agreement to address air quality and noise concerns, as well as other issues.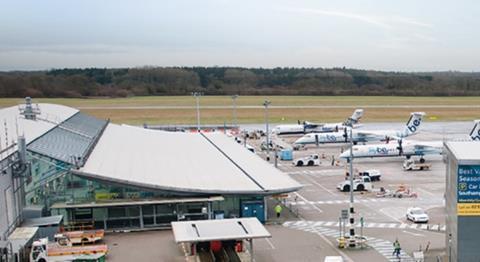 Southampton airport's presentation on the expansion strategy indicates that the runway extension could open routes to eastern European and Mediterranean destinations including Warsaw, Budapest and Athens.
UK operator Flybe had been a large customer of the airport before the carrier's collapse in March last year, and Southampton believes attracting new airlines is essential.
Operations director Steve Szalay says the runway approval has "safeguarded the future" of the airport.
"The decision also ensures we are well-placed to provide employment and support the region as we seek to recover post-pandemic," he adds.
Southampton's expansion will support its masterplan to 2037 by which point the operator expects the airport to serve 5 million passengers.
It says that, while Flybe had been operating Bombardier turboprops and Embraer regional jets, the longer runway will allow larger types including Airbus A320-family jets and Boeing 737-800s to serve more distant destinations without major restrictions.