Boeing has completed rework to some undelivered 787s and submitted a "certification plan" to the US Federal Aviation Administration (FAA), though when the company might resume 787 deliveries remains unclear.
"Rework has been completed on the initial airplanes and the company continues to work closely with the FAA on timing of resuming deliveries," Boeing says. "The company has submitted the certification plan to the FAA."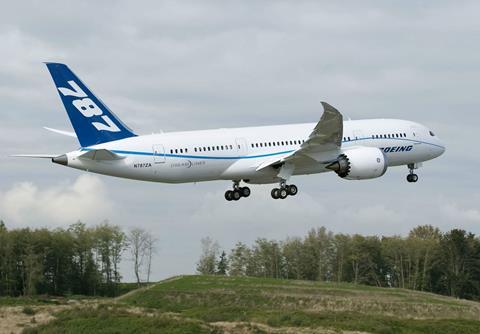 Boeing is now producing 787s "at a very low rate, and will continue to do so until deliveries resume, with a gradual return to five per month over time".
The airframer provided that broad update when releasing its first-quarter financial results on 27 April.
It has not disclosed other details about the troubled 787 programme, but executives might reveal more during an earnings call with financial analysts, scheduled for later the same day.
Boeing stopped delivering 787s in October 2020 to address quality control problems that required rework. It resumed deliveries briefly in March 2021, then stopped them again last May after the FAA declined to approve a Boeing-proposed algorithm related to fuselage inspections.
Issues needing attention have included gaps between fuselage sections that failed to meet specifications. Boeing also revealed a similar issue involving gaps in forward pressure bulkheads.
The company needs the FAA to sign off on all rework.
Experts have described the problem as complex owing to the 787's composite fuselage. How such modifications will affect the long-term structural integrity of composites is less understood than with metallic fuselages, they say.