Boeing lost $1.2 billion in the first quarter of 2022 and has made limited progress in divesting hundreds of stored 737 Max and 787s.
The airframer still held 320 undelivered Max and 115 undelivered 787s at the end of March, executives say on 27 April.
The company's 787 inventory stood at 110 at the end of 2021 but could have been expected to creep higher.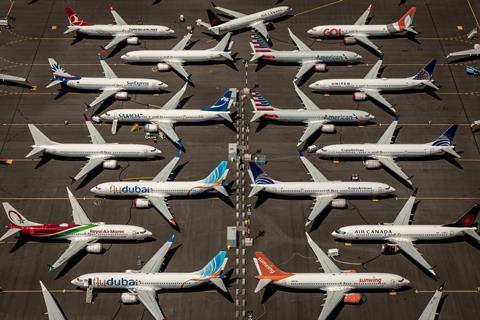 Boeing executives are not speculating about when the company might resume 787 deliveries, noting the process remains largely in the hands of the Federal Aviation Administration.
However, Boeing says it has submitted to the FAA its 787 "certification plan", and Boeing chief executive David Calhoun expresses confidence that Boeing has given the FAA everything it needs.
"We believe, based on all of our interactions with the FAA and our own engineering unit members… that we have sufficient data to make our case and certify this airplane," Calhoun says on 27 April.
Boeing is seemingly behind on goals of ridding itself of the stored 737 Max that it accumulated during the type's 20-month grounding, from March 2019 to November 2020.
In January, Boeing said its stockpile of undelivered Max stood at 335, just 15 more than the 320 it had at the end of March.
"We hate that it's so high," Boeing chief financial officer Brian West says.
Boeing's ability to offload those aircraft has been hampered by the continued pause on 737 Max deliveries to Chinese airlines. It has also been ramping 737 Max production, adding to its supply, which has made the job of clearing the backlog harder. The company is now "essentially" producing 31 737s monthly, says West.
Boeing delivered just 81 737 Max in the first three months of 2021 – equating to 27 monthly.
CFO West says Boeing still anticipates delivering "most" of its 320 stored Max by the end of 2023.
But to achieve that goal – assuming Boeing maintains a 31-per-month production rate – the company will need to deliver to more than 45 monthly through the end of next year.
Boeing's first-quarter $1.2 billion net loss compares to a $561 million loss in the same period of 2021.
The company's Boeing Commercial Airplanes division posted an $869 million first-quarter operating loss on $4.2 billion in revenue – both figures largely unchanged year-on-year.
Boeing Defense, Space & Security lost $929 million in the first quarter, reversing a $405 million operating profit in the same 2021 period.
Boeing Global Services was the bright spot, posting a $632 million first-quarter operating profit, up 43% year-on-year.