Nearly three-and-a-half years after the first 737 Max crash, Boeing says it is progressing steadily through an organisation-wide safety overhaul aimed at preventing the type of issues that contributed to the re-engined narrowbody's crisis.
The US airframer outlined those steps, which involve heightened information sharing, use of digital analytics, and closer collaboration with the Federal Aviation Administration (FAA), in a 24 May report.
Boeing's effort casts a wide net by seeking to address safety throughout the lifecycle of its jets, from design and certification, to airline operations, to pilot training.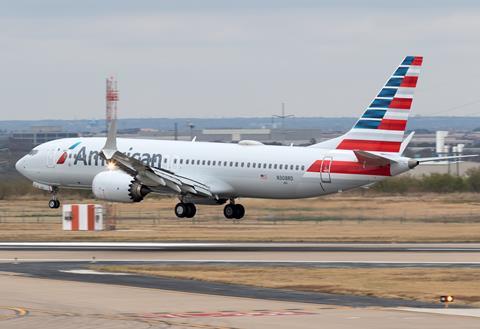 Boeing chief aerospace safety officer Michael Delaney, who heads the project, describes his team as rejecting the premise that some accidents can be attributed simply and solely to pilot error or maintenance shortfalls.
That position is notably different from Boeing's stance in the early days of the 737 Max crisis. In April 2019, Boeing's then-chief executive Dennis Muilenburg conceded the Max's design could have been "better" but also cast some responsibility for the accidents on pilots, for not following checklists.
But, speaking on 23 May, Delaney said Boeing's accident responses should "never start with" the presupposition that, "it's a pilot error, or it's a maintenance error".
"Never let us assume there wasn't something we could have done to interject" – to break a link in the chain of events that precede aircraft accidents, Delaney says. "We, as Boeing engineers… have to say 'What could we have done to give that person one more piece of information, one more second to make a decision, one more opportunity to save his crew and his passengers?'"
Boeing's newly released "Chief Aerospace Safety Officer Report" recaps various steps taken by the airframer in the name of safety following the two Max crashes – that of a Lion Air 737 Max 8 in October 2018 and of an Ethiopian Airlines Max 8 in March 2019 – which killed 346 people.
Investigators attributed those accidents to factors including Boeing's design of the Max's Maneuvering Characteristics Augmentation System (MCAS), which activated erroneously, putting the jets into dives from which the pilots could not recover.
TWO CRASHES
Various reports criticised assumptions Boeing made when developing and evaluating MCAS. Some experts noted that while Boeing test pilots did consider erroneous MCAS activation, those evaluations did not adequately present pilots with the confusing array of cockpit alerts that pilots encounter during actual MCAS failures.
Crash reports also attributed the accidents to factors including pilot actions and maintenance issues, and missteps by the FAA.
In the wake of the crisis, amid the 737 Max's grounding, its reputation tarnished, Boeing began overhauling its operation with an eye toward improving safety.
Boeing in 2019 realigned its engineering structure so its 50,000 engineers report up to Boeing's chief engineer, a position now held by Greg Hyslop. Previously, engineers in different business units reported up within those operations. "The realignment strengthens engineering expertise and promotes continued companywide focus on customer, business unit and operational priorities," Boeing's report says.
Boeing also formed a "Product and Services Safety" unit to centralise oversight, and a board-level safety committee, chaired by former GE Aviation chief executive David Joyce.
In January 2021, Boeing created its Chief Aerospace Safety Office, headed by Delaney, who oversees safety across Boeing and holds a seat on the company's executive council. Delaney, who reports to Hyslop, has previously been Boeing vice-president of commercial engineering and vice-president of airplane development.
Boeing will also soon announce its first safety "ombudsman", an employee who will serve as a channel through which employees can raise safety concerns, says Delaney.
The Max crashes also prompted Boeing to create a safety management system (SMS) – a formal organisation-wide safety framework designed, says Delaney, to "inculcate" safety into Boeing's operation; it was approved by the FAA in December 2021.
Aircraft manufacturers are not required to have a SMS but soon will be under a 2021 law spurred by the Max crashes.
DATA GATHERING
Part of Boeing's SMS involves collecting information and data from across the design, production and operation of its jets, including from airlines. Much data has historically been disparate, meaning the extent to which particular safety issues are prevalent across the global fleet might be unknown, says Delaney.
"There is signal in all that noise that can be found. That's where the analytics come in," he adds.
Leading that effort is Boeing vice-president for aerospace safety analytics Vishwa Uddanwadiker.
"We are building out the advanced analytics engine that will comprehensively support our safety management system," Uddanwadiker says. "We need all the right internal and external data sources."
Boeing has been seeking to embed more safety focus into its corporate culture, including by encouraging employees to report safety concerns.
The company received 32% more internal safety quality reports between the first quarters of 2021 and 2022, says Boeing vice-president of operational safety and strategy Al Madar. "That data tells me it is working."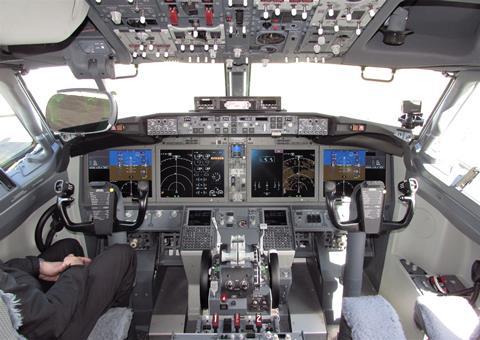 Boeing is also strengthening its Organization Designation Authorisation (ODA) group – a self-certification unit through which the aiframer's employees perform aspects of aircraft certification for the FAA.
And Boeing is also sharing more safety information with the regulator. "On a daily basis, things we see from the fleet are fed over to the FAA," says Boeing vice-president of product and services safety Tom Galantowicz. "We're sharing more data… sharing it in much greater detail than we have in the past."
Additionally, Boeing is developing a new "in-house competency-based" pilot-training programme, says vice-president of global aerospace safety initiatives Lacey Pittman.
The company has long offered training assistance to customers, but that training has historically been "task-based", meaning lessons are intended to prepare pilots to deal with specific flight scenarios.
"This competency-based training is really about ensuring that the trainee has this core set of capabilities that will allow them to respond to threat and errors that they see in the flightdeck," Pittman says. "If the pilot… can demonstrate that they have those capabilities, they can manage any worst-case scenario."
Boeing is making that training available to customers, with assistance from Boeing training pilots. "We will scale this to what we think the needs of our customers are," Delaney says.
Boeing declines to specify how much it is spending on the work. Also, Delaney largely declines to discuss factors causing the 737 Max crashes.
He cites "different perspectives" within Boeing about the crashes and says his team aims not to assign blame but to improve safety.
"There were issues in the engineering and the programme management and the development," Delaney adds. "I think there were issues in the response, once the first accident happened and then once the second accident happened."