Boeing's 737 Max 10 is scheduled to take off on its maiden flight on 18 June, beginning a certification campaign that Boeing aims to end in time for deliveries to start in 2023.
The airframer's flightplan calls for the jet to depart Renton, Washington at about 10:00 local time, fly for about 2h and land at Boeing Field, the company says, adding that the schedule could change.
Boeing launched the CFM International Leap-1B-powered Max 10 – the largest of the family – in June 2017 at the Paris air show. It previously expected to deliver the first aircraft in 2020 but has twice delayed this amid the Max grounding and Covid-19 pandemic.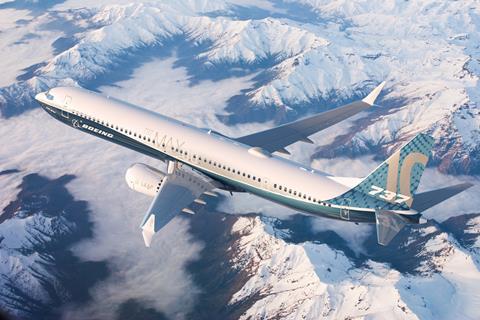 The jet can carry 188-204 passengers in two classes, has 3,300nm (6,100km) range and is 1.6m (5ft 3in) longer than the next-smallest variant, the Max 9.
The stretched fuselage meant Boeing needed to extend the Max 10's main landing-gear.
To avoid redesigning the wheel-well, Boeing added a lever to the gear that lets it extend 241mm (9.5in) upon rotation during take-off. When pilots retract the gear, a "shrinking mechanism" pulls in a cylinder, letting the gear fit into the standard wheel-well, Boeing has said.
Boeing rolled out the first 737 Max 10 in November 2019.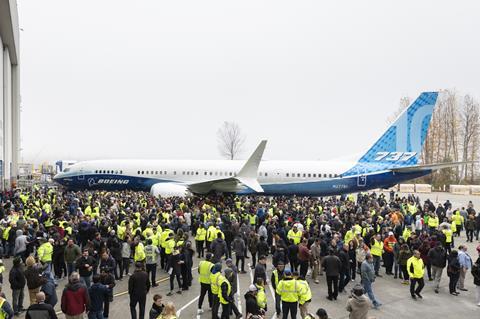 Max 10 sales have been relatively muted. Boeing holds 431 Max 10 orders. Top customers include United Airlines (88 orders), Vietjet Air (80), Lion Air (50), Flydubai (50) and Gol (30), according to Cirium data.
The Max 10 competes with Airbus's A321neo, the largest variant of the European airframer's A320neo line-up. The jets have similar capacity, with the A321neo carrying 180-240 passengers.
But A321neos have more range – 4,000nm for the baseline variant and an advertised 4,700nm for the in-development A321XLR.
Boeing's three other major Max variants are now flying. The Max 8 and Max 9 are in service and the smallest version, the Max 7, remains in flight testing after making its maiden flight in 2018. Boeing aims to hand over the first Max 7 in 2022.