As the pandemic eases, Boeing finds itself in the familiar position of still having to address the competitive threat posed by Airbus's A321neo – particularly the longer-range A321XLR variant.
Chicago-based Boeing took a long step toward addressing that threat on 18 June, when the 737 Max 10 made its maiden flight, inching Boeing nearer to beginning deliveries of the model.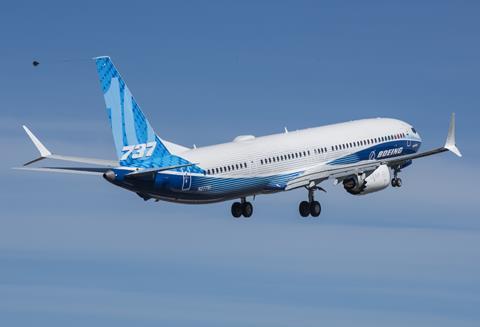 But the Max 10 does not solve the entire problem for Boeing. That is because, while it carries about the same number of passengers, the Max 10 lags the A321XLR in range. For that reason, some aerospace analysts still think Boeing must counter Airbus by launching a so-called "mid-market jet".
Boeing chief executive David Calhoun insists his company – which is in the midst of major 787 production problems and still clawing out of the Max grounding disaster – will indeed strike back with a new jet.
But Calhoun has provided few details. Nor has he said whether Boeing's next aircraft will be the mid-market jet for which analysts have clamoured, or a 737 replacement, or some combination.
Calhoun faces questions about Boeing's development plans nearly every time he speaks publicly. "It won't be all that long before we'll announce ours," he said of Boeing's next jet during an investor conference on 3 June.
Airbus launched its A321XLR at the 2019 Paris air show, quickly racking up orders and commitments. With advertised range of 4,700nm (8,700km), the 180-220-passenger A321XLR has transatlantic capability, which is exactly why airlines like JetBlue Airways ordered the type. Airbus expects the first A321XLR will enter service in 2023.
GOING FURTHER?
By comparison, the 737 Max 10 carries 188-204 passengers in two classes, but has only 3,300nm range, according to Boeing. It expects to deliver the first Max 10 in 2023.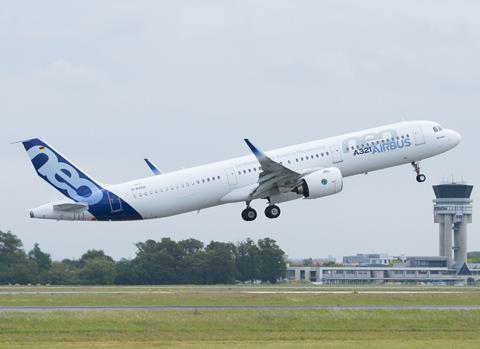 Aerospace analyst Richard Aboulafia with Teal Group thinks Boeing will continue playing catch up until it launches a wholly new jet to fill the "mid-market" space – the sector wedged between traditional narrowbodies and smaller widebodies. The A321XLR sits in the mid-market, as do 757s and 767s. The 737 Max 10 does not.
Still, Aboulafia thinks Boeing may not pull the trigger, at least not soon, noting the company has recently cut research and development spending and slashed its workforce.
Major customers like Air Lease chief executive Steven Udvar-Hazy have likewise called for Boeing to move on a mid-market aircraft.
Financial firm Jefferies sees opportunity for Boeing to develop a 200-250-seat jet for service entry in the late 2020s or early 2030s. The aircraft could be a narrowbody with 4,000-5,000nm range, or a small widebody like a 767 with 6,000nm range – enough "to reach any point in Europe from the East Coast", Jefferies says in a 20 June research report. Such a jet might nibble into shorter-routes served by 787-8s, but would otherwise lack range to compete more directly with 787s or 777s.
Demand could potentially support production of 7,200 such aircraft over 20 years, or 30 monthly, Jefferies says.
Boeing has for years flirted with launching a mid-market jet, most recently working on a concept known as the "New Mid-market Airplane", which industry sources had expected would carry up to 270 seats and have 4,000-5,000nm range. But Boeing stepped away from that project, with Calhoun saying in January 2020 that the company was taking a different approach.

During the 3 June investor conference, Calhoun conceded the A321XLR holds a "performance advantage" – but only in what he described as a narrow segment of the jetliner market.
For that reason, Calhoun said, Boeing's next jet will not simply be "an overlay of the A321XLR".
"We're going to tackle something much bigger than that," he said.
Leaving aside Boeing's next aircraft, analysts generally describe the Max 10 as a capable jet with a promising future – one that helps bridge a competitive gap. That optimism stems partly from the Max 10's capabilities, and partly from the duopolistic make up of the narrowbody aircraft manufacturing market.
Though China's Comac is working toward certification of its C919 narrowbody, Airbus and Boeing essentially have the narrowbody market to themselves. Market forecasts broadly point to surging demand in the coming years for narrowbody jets, as airlines replace 737NGs and A320ceos. Neither Airbus nor Boeing will be able to fill that demand alone, which bodes well for both companies' products.
The Max 10 also stands on its own merits, analysts say. It is significantly more efficient than the 737NG and has enviable seat-mile costs. Also, cockpit and pilot-training commonalities mean Max 10s fit seamlessly into the fleets of existing 737 operators.
"For the US majors, it's going to be a hit," Cirium head of valuations George Dimitroff says of the Max 10. He notes that the Max 10's range allows for transcontinental US flights and flights from the US West Coast to Hawaii. Also, US airlines are large enough to also order A321neos if they desire a narrowbody with a bit more range.
Boeing holds firm orders for about 430 Max 10s, including from customers Flydubai, Gol, Lion Air, United Airlines and Vietjet Air, according to Cirium data.
The Max 10 programme gained renewed momentum when the type got airborne for the first time, leaving Renton Municipal airport and flying for about 2h 30min before landing at Boeing Field in Seattle.
"I [fully] expect to see more orders," Boeing Commercial Airplanes chief executive Stan Deal said of the Max 10 on 18 June. "We're starting to see a recovery in the market, particularly pronounced in the US."
Commercial airliner programmes: up in the air?
1

2

3

4

Currently reading

Boeing's response to A321neo still unclear, but Max 10 narrows competitive gap

5

6

7

8