Embraer delivered 14 aircraft during the first quarter of 2020, down more than 30% from the same period last year as the company carved out its commercial aircraft division for a now-scuppered sale to Boeing.
The Brazilian planemaker says on 12 May it delivered five commercial aircraft and nine executive jets during the period. That is down from 11 commercial aircraft and 11 jets in the same quarter one year ago.
The San Jose dos Campos-headquartered company blames the failed sale of its commercial aviation business to Boeing for the decline in deliveries. In March, Embraer said costs related to carving out its commercial business, some $120 million, would wipe out full-year 2019 earnings before interest and taxes.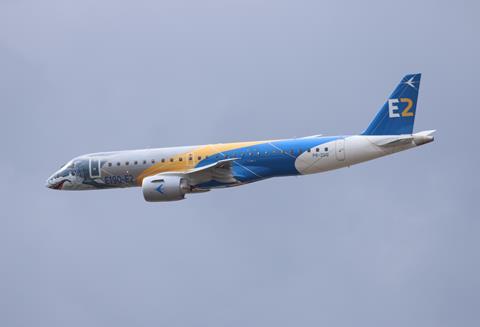 "Historically, Embraer seasonally has fewer deliveries during the first quarter of the year, and in 2020 in particular, the commercial aircraft deliveries in the first quarter were also negatively impacted by the conclusion of the separation of Embraer's commercial aviation unit in January," the company says.
Embraer also said today it had a backlog of $15.9 million at the end of March, down from $16.8 billion in the fourth quarter of 2019. The company's backlog data show that orders for 15 E175 jets have been cancelled since the end of 2019.
The $4.2 billion Embraer-Boeing tie-up, announced in 2017, would have given Boeing 80% of the Brazilian company's commercial jet division. However, since the beginning of the year, as the coronavirus decimated the air transport industry, the company's stock plummeted about 65%, making the entire firm worth no more than $1.3 billion.
Some industry analysts said in light of this decline, the valuation of the deal no longer made sense. In addition, the beleaguered US planemaker had hoped to get US government support to manage through the coronavirus crisis, which came on top of the company's 737 Max debacle. Some analysts thought the US government might frown on Boeing spending billions of dollars in Brazil immediately after receiving bailout funds. Boeing has still not announced having taken any US government financial aid.
The sale, which had already been approved by several major regulatory bodies in Asia and the Americas, had been due to close this year. The companies were awaiting the European Commission's ruling, due in August. It was called off completely after Boeing terminated the master transaction agreement in late April. The US airframer said at the time that Embraer "did not satisfy the necessary conditions."
Embraer's executive jets arm also says on 12 May that its Phenom 300E received triple-certification from regulators in Brazil, the United States and Europe during the quarter.