Eviation has disclosed that US regional airline Cape Air intends to purchase 75 of its in-development electric aircraft Alice.
The news comes several years after Eviation, in 2019, revealed that Cape Air had signed an agreement to acquire what was then an unspecified number of the aircraft.
Cape Air has now signed a "letter of Intent for the purchase of 75 all-electric Alice commuter aircraft," Eviation says on 15 April.
Neither Eviation nor Cape Air responded to a request for more details, such as how the agreements differ and when Cape Air expects to take the aircraft.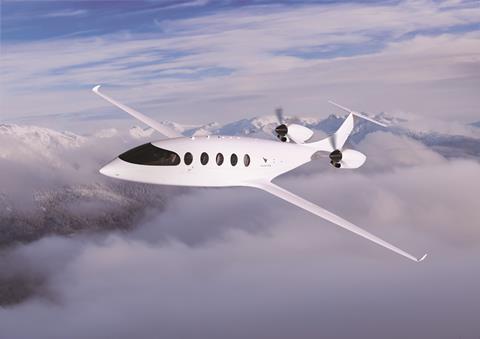 Eviation's Alice programme is already behind schedule, and Eviation is yet to get Alice airborne despite promises in recent months that the milestone was imminent.
"With this engagement, Cape Air aims to set up an unparalleled regional electric fleet, taking a pioneering step into the sustainable era of aviation," Eviation says in a media release.
Eviation's release cites Cape Air chief executive Linda Markham as saying, "Cape Air remains committed to sustainability, growth and innovation, and our partnership with Eviation allows for these commitments to become a reality".
Cape Air has not confirmed to FlightGlobal the 75-aircraft deal.
Based in Massachusetts, Cape Air is among the few – and by far the largest – remaining US commuter airlines. Its fleet includes 70 Cessna 402Cs – many decades old – and four Britten-Normal BN-2 Islanders, according to Cirium data. Most of Cape Air's flights connect cities in the Northeast USA, and it operates a hub in Boston. The airline also flies routes from St Louis (Missouri), Billings (Montana) and San Juan (Puerto Rico).
Powered by twin 640kW (858hp) Magnix Magni650 electric propulsion systems, Alice will carry up to 9 passengers and have 440nm (815km) of range and maximum cruise speed of 250kt (643km/h), Eviation says.
The company also markets Alice in cargo and executive variants.
Eviation has most-recently said it aims to have Alice certificated in 2023, though the programme is ready behind the company's previous schedule.
The aircraft has apparently yet to complete its maiden flight – despite former chief executive Omer Bar-Yohay saying in February that first flight was "literally days away". Shortly after making those comments, Bar-Yohay was shown the door, succeeded by Gregory Davis.
Eviation previously intended to complete first flight in 2021, with deliveries starting in 2022.
In recent years, Eviation has tweaked Alice's design from having wing-mounted motors to having motors mounted on the aft fuselage. In January 2020, a fire ignited by lithium-ion batteries destroyed an Alice prototype in Prescott, Arizona, according to reports.
Eviation first announced an agreement with Cape Air in 2019, when it said the airline signed a "double-digit purchase option" for Alice. That deal seemingly made Cape Air the type's launch customer.