Several months after completing first flight of its prototype electric aircraft, US developer Eviation is working to secure manufacturing partners and additional funding, while remaining on track to begin certification flight testing in 2025.
That is according to chief executive Gregory Davis, who is well aware his company sits within a market crowded with start-ups making bold promises.
"We want to be clear with our customers and clear with our supply chain and clear with the marketplace… What we are doing is real," Davis tells FlightGlobal. "These are certainly aggressive targets… But we are being realistic."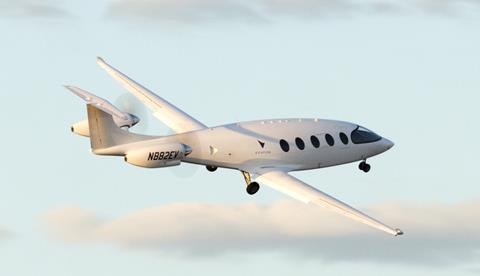 Based in Arlington, Washington, Eviation holds the distinction of having already flown a clean-sheet, fixed-wing electric aircraft called Alice that, in most regards, looks and flies like other commuter types. Importantly, Alice, sitting in a market segment called "Regional Air Mobility", will operate from old-fashioned airports using existing air traffic infrastructure, Davis says.
By contrast, the crop of in-development electric air taxis (a segment known as "Urban Air Mobility"), may require new certification and air traffic control standards, and new operating infrastructure, including 'vertiports'.
"We've designed our aircraft so that it can operate inside all of these existing regulations, from certification through operations, through airspace and airports," says Davis, speaking during the Pacific Northwest Aerospace Alliance's annual event near Seattle on 9 February.
Speaking at the same conference, aerospace analyst Kevin Michaels agrees that an aircraft like Alice, "using the existing air traffic management system, has the best chance to succeed".
Urban air mobility – "you've got to invent a new air traffic management system", adds Michaels, who is managing director at AeroDynamic Advisory.
Alice is to carry nine passengers (the regulatory limit for single-piloted aircraft), fly at speeds up to 260kt (482km/h) and have about 250nm (463km) of range in visual flight conditions, plus an additional 30min of reserve flight time. Power will come from twin Magnix 700kW Magni650 motors.
Davis estimates Alice's certification programme, which is to involve three test aircraft, will start in 2025 and last 18-20 months, putting Eviation on track to deliver the first aircraft in 2027. During the flight-test campaign, Eviation plans to begin producing its first production-prototype aircraft.
Much uncertainty remains, including the difficulty of achieving Federal Aviation Administration certification for such a unique aircraft. The FAA stepped up its scrutiny following two Boeing 737 Max crashes, leading companies like Boeing and Gulfstream to delay certification timelines.
But Davis, who took over from former Eviation CEO Omer Bar-Yohay last year, predicts Alice will progress relatively smoothly through the FAA's review. Eviation will seek Alice's certification as a commuter type under the FAA's existing Part 23 regulations, which apply to aircraft with maximum take-off weights up to 19,000lb (8,618kg), he says. (Alice will come in at 18,400lb.)
Similarly, Magnix intends to certificate Alice's powerplants under FAA Part 33 airworthiness standards for aircraft engines – "which is an advantage for us, because then… it's just an engine, and it doesn't matter if it's electric or not electric", Davis says.
Eviation made headlines on 27 September 2022 when an Alice prototype took off for the first time, from Moses Lake's Grant County International airport. During that 8min flight, the aircraft climbed to 3,500ft and flew at 160kt – and Eviation collected "terabytes" of performance data, Davis says.
Since that first – and still only – flight, the company has been evaluating the aircraft's in-flight performance, and comparing the data to expectations, Davis says. "We've had very good correlation… The aircraft performed very closely to how we modelled it."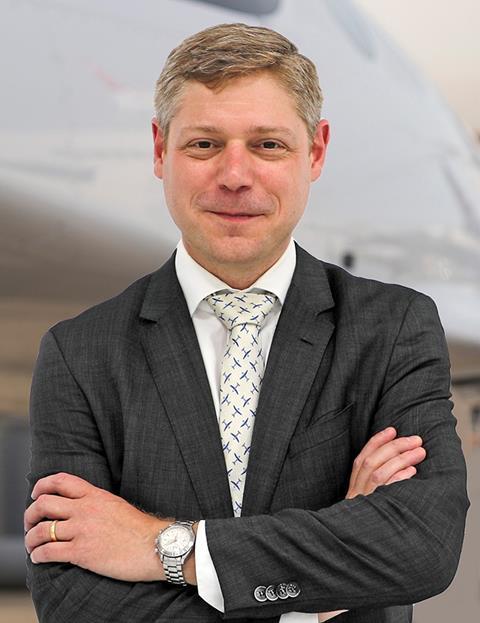 Eviation will soon disclose more suppliers. "Most of our focus right now is … figuring out who's going to be the long-term partner suppliers for the production aircraft," Davis says. "You are going to see major supplier announcements."
The company has previously named several suppliers that worked early on the Alice programme. GKN Aerospace was manufacturing wings, empennages and wiring systems, Honeywell Aerospace had worked on cooling and fly-by-wire systems, South Korea's Kokam was an early battery supplier, and Parker Aerospace was named as suppling cockpit controls, hydraulics and flap and thermal management systems.
Because Eviation's expertise lies in "electric aircraft design [and] systems integration" –
rather than, say, composites manufacturing – Eviation's production plan involves significant outsourcing.
"We're going to find the best available supplier for each of the systems on the aircraft, and we're going to use them to help us integrate the airplane," Davis says, adding that Eviation itself will complete aircraft assembly.
Which company will first operate Alice remains unclear, but Massachusetts-based commuter airline Cape Air is a leading candidate, having been among the first to commit to purchasing Alice. Eviation said Cape Air signed a letter of intent to acquire 75 of the aircraft.
The company has now "sold" more than 300 aircraft, Davis says, though he declines to specify sales prices or other sales details. Some aerospace analysts say purchase agreements involving conceptual aircraft often involve minimal actual money changing hands.
Davis insists the agreements are solid: "They're real orders… or very strong expressions of interest."
Aside form Cape Air, Mexican start-up airline Aerus, Air New Zealand, Australian's Northern Territory Air Services, Germany's Evia Aero, DHL and US carrier Global Crossing Airlines have committed to acquiring Alice.
"These are legitimate airlines today that are flying short-haul routes," says analyst Michaels.
Alice will likely be recharged using connectors similar to the "Combined Charging System" used widely by the automatic industry, Davis says, adding Eviation has already installed two such charging systems, at Moses Lake and Arlington.
Roughly 30min of charging should provide enough power for about 1h of flight, and operators can expect to replace Alice's batteries after 3,000h of operation, he says. "We've designed the batteries with a finite life cycle so we can operate with a 30min charge".
Eviation's earlier round of funding enabled it to develop the technology behind Alice and to bring the aircraft through first flight. "We are now in the middle of our next funding round," Davis says.
He declines to be specific about Eviation's financial situation or to reveal the anticipated cost of developing and certificating Alice, but says the expense should be comparable to that of developing conventionally powered commuter aircraft.
Glenn McDonald, also an aerospace analyst at AeroDynamic, estimates that developing and certificating an aircraft under Part 23 should cost "much less than" $1 billion. Based on Alice's business case, "development costs can't be more than the several-hundred-million range if the aircraft programme is going to have an overall positive return".
Completing the first flight suggested Eviation has recovered from a setback in January 2020, when another prototype was destroyed by fire while on the ground in Prescott, Arizona. That prototype's lithium-ion batteries ignited due to a "thermal runaway event", Davis says.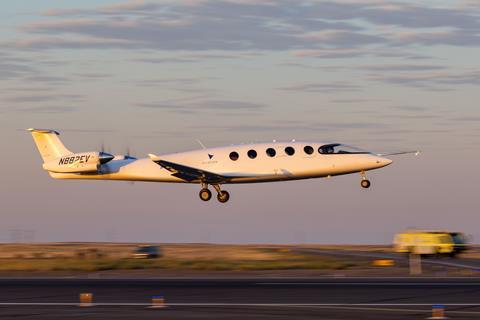 He calls the incident a "learning experience" that "certainly changed the way we approached things", prompting Eviation to improve Alice's battery management system. The event also "helped formulate how we [are] going to certify and produce safe batteries".
Following the fire, Eviation commissioned an accident investigation that culminated in a several-hundred page safety report, which Eviation shared with the FAA and National Transportation Safety Board, Davis says.
The report highlighted the "importance of being able to… monitor the aircraft battery systems down to the individual cell level", he notes. "We have built that sensor technology into our battery."
Alice now has a battery management system that can control and "isolate" the battery's individual "sub-packs", which each contribute about 1% of total power.
"That will stop a repeat of the event that we saw," Davis says, noting that Alice can continue to fly safety even if the system shuts down some sub-packs. "Now we know what we need to watch out for."