Cape Air is continuing a long-term transition away from its fleet of high-time Cessna 402s but still envisions flying the twin-engined aircraft well into the future.
The Cessna 402 has been "the backbone of our operation for 34 years", chief executive Linda Markham told FlightGlobal on 26 September during the Regional Airline Association Leaders Conference in Washington DC. "It's a really great airplane."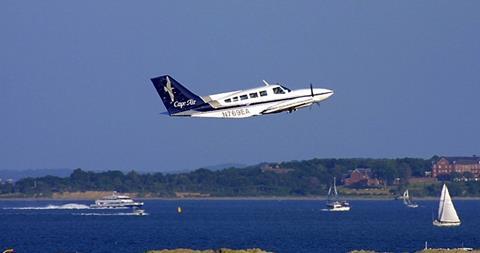 The largest remaining commuter carrier in the USA, Cape Air has retired 24 Cessna 402s over the past four years and has 66 remaining in service – all of which are nearing or exceeding 40 years old, according to Cirium fleets data.
The Massachusetts-based carrier has been phasing out the 402s in favour of new Italian-manufactured Tecnam P2012 Travellers, a type it has been flying since February 2020; Cape Air now operates a fleet of 30 P2012 Travellers.
"Our initial thought was that we were going to phase them out over a period of like 10 years," Markham says of the Cessna 402. "I think we're still on track to do that. But as long as we continue to feel that the aircraft provides safe and reliable air service, we will continue to fly it – even if we convert everything to a Tecnam and have a small fleet of Cessnas we use in some sort of charter operation, not flying as many hours as they were flying."
Meanwhile, the carrier has invested in extending the service life of its remaining 402s, according to James Goddard, senior vice-president of Cape Air.
"We have a sustainability programme and developed a separate MRO – a repair station with structural technicians – and we work with our OEM partners and engineering companies to reproduce all structural elements," he says. "So, we have a programme that changes all the structural elements of the airpane."
While the company's 402s will continue flying for the foreseeable future, Cape Air's P2012 Travellers are also well-suited for the carrier's mission, Markham says.
"We spoke to a lot of different manufacturers and Tecnam was the one that ended up wanting to design something that would fit our business model," she says. "We went back to Cessna and had conversations with them, but they weren't interested in a multi-engine, nine-seat airplane. Tecnam was the best option at the time."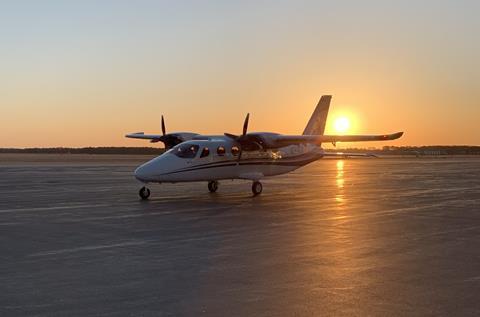 Cape Air's longer-term fleet plan is uncertain as the company weighs the benefits and drawbacks of various low- and no-emissions flight technologies.
In April 2022, it signed a letter of intent to purchase 75 of Eviation's in-development, all-electric Alice commuter aircraft. But the airline was recently informed that Alice is undergoing a "subtle" redesign of its fuselage and wings, and Markham says Cape Air is not committed to the electric aircraft as a mainstay of its future fleet.
"We are open to having conversations with other manufacturers as well, whether it's all-electric or a hybrid-electric option," she says. "Certainly, [Eviation] was the first to approach us… but I think there could be a horse race."
Goddard says Cape Air is interested in "anything that solves the emissions issue", whether that be retrofitting existing turboprops with electric or hybrid-electric powertrains or opting for a clean-sheet aircraft.
"Whether or not it's the right fit for our organisation, we'd have to see what the end result is," he says of emerging low-emissions technologies. "One of the things about Eviation is that it's a clean-sheet design. Now, there are problems with that, as they're trying to push the envelope and there is uncertainty in doing that.
"Adapting an existing airplane is less risky because you know the airframe and you're adapting a power source and powerplant to it," he continues. "So, it depends on useful fuel load and how it can operate in our business model… We need to be open-minded about what products are out there."
The company is similarly open-minded about in-development autonomous flight technologies as a potential way of alleviating the industry-wide pilot shortage, which has required Cape Air to "waste a lot of resources on getting pilots qualified in both aircraft", Markham says.
"As long as it doesn't compromise safety and the regulators are comfortable with that type of technology that is being introduced," she says, "it is certainly not something we would be averse to looking at."