Eviation's all-electric Alice aircraft is being redesigned roughly one year after the commuter first got airborne.
The Washington-based developer maintains that the adjustments will be minor and that the aircraft's timeline for certification and service entry remains unchanged.
The redesign was discussed by Linda Markham, chief executive of US regional carrier Cape Air, during the Regional Airline Association's Leaders Conference in Washington, DC.
"We think Cape Air is probably the perfect model and size to introduce electric or hybrid aircraft," Markham told conference attendees on 26 September. "We've been having conversations with Eviation – their Alice product, they are currently re-manufacturing it to make it more efficient."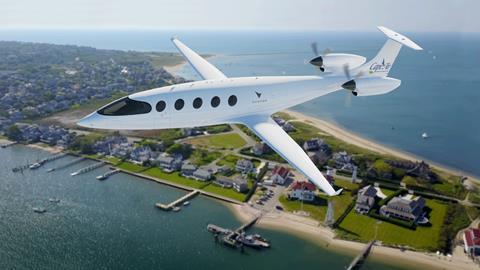 Eviation confirms it is making "minor changes" to the dimensions of Alice's wings – including both thickness and span – and adjustments to the contour of the fuselage "to improve the manufacturability of the aircraft".
"The changes will result in subtle updates to the shape of the aircraft, but the aircraft will be easily recognisably Alice," Eviation says. "If you put the prototype next to the production version, you will not see any radical changes."
The electric aircraft developer adds that it will complete wind-tunnel testing later this year and complete the new configuration's design early in 2024. It still aims to start certification test flights in 2025 and make its first aircraft delivery later this decade.
Eviation has maintained for months that it has been reviewing terabytes of data from an 8min test flight completed in September 2022, and that there would be no benefit from immediate further flying.
Speaking during the Paris air show in June, chief executive Greg Davis said Alice remains in an airworthy condition, but that the developer is making sure "we are expending resources where we need to".
"Flying the airplane right now would have absolutely no impact on the certification process or the timeline for getting it into service," Davis said.
In August, Eviation revealed it had outsourced the design of the production configuration of Alice to TLG Aerospace.
The nine-seat Alice will fly at speeds of up to 260kt (482km/h) and have range of about 250nm (463km) in visual flight conditions, plus an additional 30min reserve, Eviation has said. The aircraft is currently powered by twin Magnix 700kW (939hp) Magni650 motors.
The developer claims a backlog of more than 500 aircraft "orders", which it says is valued at about $5 billion. Letters of intent are not binding contracts, however.
By far the largest remaining US commuter airline, Cape Air signed a letter of intent for 75 Alice aircraft in April 2022. But Markham told FlightGlobal on 26 September that the carrier is not committed to Alice as a mainstay of its future fleet.
"We are open to having conversations with other manufacturers as well, whether it's all-electric or a hybrid-electric option," she says. "Certainly, [Eviation] was the first to approach us… but I think there could be a horse race."
This story has been changed to reflect that Eviation had previously disclosed the changes to Alice's design prior to the RAA Leaders Conference on 26 September.