German regional airline start-up FlyVbird has signed a letter of intent to purchase 25 of Eviation's all-electric Alice aircraft, in a deal that also includes 25 options.
Washington-based Eviation disclosed the tentative order on 16 October, adding that the commuter aircraft will be deployed as part of FlyVbird's proposed app-based, on-demand regional service.
"Through our unique AI-driven approach, we will offer direct alternatives to typical hub-and-spoke operations and Alice will play a critical role," says Anton Lutz, chief executive of FlyVbird.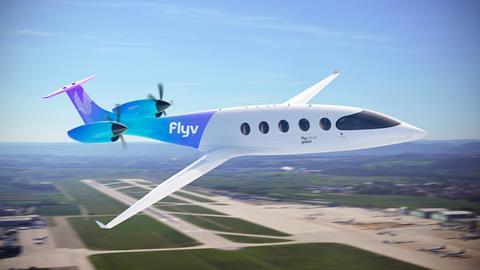 FlyVbird plans to connect rural areas by targeting smaller, more accessible airports.
"The airline is driven by unique algorithms to deliver on-demand air travel to routes passengers want to fly," Eviation says. "It plans to secure its own air operator certificate to utilise Alice for decentralised and sustainable travel across Europe."
The announcement follows a similar commitment for up to 50 aircraft made last month by South Korean leasing company Solyu.
Eviation claims to have a backlog of more than 500 aircraft, with a total value exceeding $5 billion.
The company is aiming to launch certification test flights with Alice in 2025 and to deliver the first aircraft in 2027. A prototype completed an 8min flight in September 2022 and has since remained grounded.
Last month, the company disclosed that Alice is undergoing a "subtle" redesign, making changes to the dimensions of the aircraft's wings and to the contour of the fuselage.
The new design will be finalised early next year, following the completion of windtunnel testing, Eviation says.