Italian airframer Tecnam is nearing European certification for the short take-off and landing (STOL) variant of its P2012 Traveller, with first deliveries slated for January next year.
Approval from the European Union Aviation Safety Agency is expected by year-end, Tecnam says.
Already in production, the 11-seat piston-twin has been specifically engineered to operate at the world's most demanding commercial airports, the company says.
The baseline variant of the P2012 already has impressive take-off and landing characteristics, and the new STOL version will allow it to connect even more remote areas, on even shorter runways.
"This is already a short take-off and landing airplane; it can take off in about 2,000ft," says Francesco Sferra, the company's P2012 sales programme manager. "The STOL version can do it in a little more than half of that."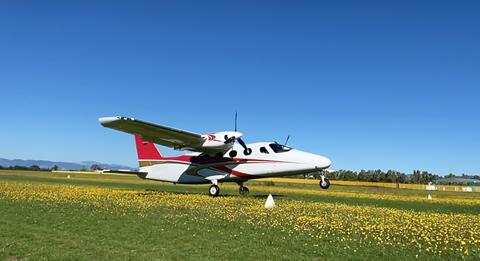 According to the aircraft specifications, the new STOL variant requires just 425m (1,394ft) to take off, and 360m to land.
"We achieved that with a larger wingspan, different engines, different propellers, same horsepower. So it's not a matter of power, it's a matter of aerodynamics," Sferra says.
Following initial certification in Europe, he says that Federal Aviation Administration validation could take between five and seven months. He hopes to show off the new aircraft at next year's NBAA.
Tecnam says the P2012 is the only piston-twin with STOL capabilities that complies with the latest certification changes. It has a maximum gross weight of 3,680kg (8,110lb), and a useful load of 1,290kg.
The aircraft is available in passenger or multi-mission configurations including for cargo and air ambulance services.
Tecnam has built just over 60 Travellers so far, with about 45 of those currently operating in the USA. Regional airline Cape Air is the largest operator in the country, with 30 examples in service, according to Cirium fleets data.