US regional carrier Silver Airways has updated the look of one of its ATR turboprops, revealing a new livery.
Silver shared the new pink, white, black and gray livery – complete with the company's flamingo logo on the tail – via social media on 10 November.
"This unveiling marks a pivotal chapter in Silver's journey, symbolising growth, modernisation and our commitment to elevating your travel experience. Welcome aboard the refreshed era of Silver," the company says.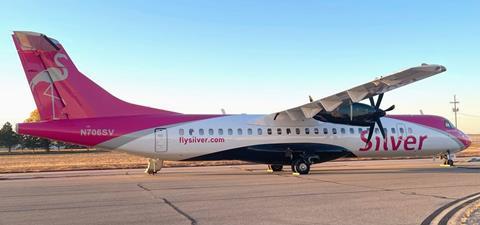 The aircraft's fuselage has far more white than the previous livery, which was mostly pink.
Based in Fort Lauderdale, passenger carrier Silver flies in the US Southeast, the Bahamas and the Caribbean using a fleet of 14 ATRs, including 72-600s and 42-600s, according to Cirium fleets data.
It is unclear if the company will repaint all its ATR turboprops or how long that process might take. Silver does not immediately respond to a request for comment.
Silver plans to launch new four-times weekly flights between San Juan, Puerto Rico and Antigua on 16 November.
In April, Silver struck a last-minute deal to avoid eviction from its base at Fort Lauderdale-Hollywood International airport, after owing, at one point, more than $1.4 million in back rent and late fees.
The airline's passenger network covers Florida, Georgia and South Carolina, as well as the Caribbean. In 2018, Silver acquired Seaborne Airlines, a Puerto Rico-based carrier serving destinations throughout the Antilles.